Posts Tagged 'vancouver'
The Bizarreville Luge team has reported that there is no friggin' way they are going to compete on that treacherous track that tragically took to life of a Georgian athlete.  "Even if they shave off part of Curve 16 and wall-off those steel beam headbusters, that won't be enough," according to a Bizarreville Luge team spokesman.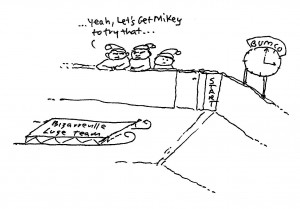 Officials say that the accident last week was no fault of the track, but was caused by human error.  The rider was identified as being too inexperienced and only ranked 44th in the world.  "Our best luger is 1044th in the world, for crissake," said the team spokesman.  "We really don't want to turn our team into a 6-pack of meatball sandwiches on that Chicago Stockyard Dissasembly Line."  The spokesman went on to say that the quality of their team's luge sleds is about one-half step above the Flexible Flyers at Walmart.  "You get one of those babies going 90 miles per hour sideways, with someone about as qualified as my grandmaw on it…you're going to end up with Brunswick stew."
The players are not upset at the decision.  The have indicated that they just wanted to come to the Olympics for the over-the-top festivities, trading pins with the Rooskies, and the free hot chocolate.  Team Captain Skinny Jenkins said that there's plenty of other stuff to do, and they might go try a little ski jumping just for the hell of it.  When asked about the danger of totally inexperienced people leaping through mid-air off a mountain, Skinny said they would let their youngest teammate Mikey do it…and if he broke some bones, they might just dog-off that whole idea, and go hit Happy Hour in the Athlete's Lounge.
But the luge sleds have now been retired, and the team may try to sell the sleds as souvenirs to some of the spend-happy Olympic fans here.  "Anybody who would pay good hard cash to watch a Curling tournament, might very well be stupid enough to buy a luge for 500 bucks."
Disclaimer:  all stories in Bizarreville are fiction.  And, as you can see, nothing is sacred with these idiots here.