Posts Tagged 'syria'
The Bizarreville War Council met 3 days and 3 nights on the wrenching issue of whether or not to go to war with Sycolia.  The Defense Secretary, reflecting the views of the heads of all the military branches, wanted to nuke the bloody a-holes.  He knew, through all his years of military experience, that the only way to send a message was to send the Miracle on 34th Street Santa Clause letter barrage version.  Timidity was for sandbox players…take that back, even sandboxers needed aggression when the sand starts flying.  Besides, their stockpile of nukes was nearing their expiration dates, and needed to be used or tossed.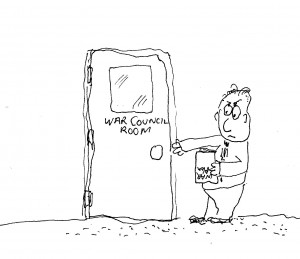 The other side of the table spoke for diplomacy, negotiation, and light sanctions, at most…and "do nothing" preferably.  They argued that escalating the issue would inevitably lead to a full blown regional war, maybe world war, that no one wanted to see happen.  They understood the war mongers desire to pick a fight, since it had been decades since a full-boat war had been fought.  Human history had shown that wars were needed on some sort of regular basis, and now was probably past due.  But they still could not support a war on such a meaningless basis.
Sycolia was, in truth, a country that almost no one gave a crap about.  The country had no important resources, had no particular geographic value, had no wealth worth plundering.  It was a country that had gotten captured and recaptured over history, with the captors often saying "Remind me again…why did we bother?" just before packing it in and leaving.  The habitants of Sycolia were an unruly bunch of radical nimrods who could only be peacefully managed by a tough no-nonsense ruler who excelled at herding cats.  They had such a ruler now.
The world-caring problem bubbled up when the ruler began using weapons of mass-disgusting on his own people.  If he had shot the mobs of protestors with machine guns, frankly, no one would have cared.  But when he started using catapults loaded with piles of human excrement…well, that was beyond the pail.  Dozens and dozens of protestors began uncontrollably vomiting, choking to death in a scene of indescribable disgustingness.  It was no wonder it grabbed world attention.
But for the rest of the world, the attention was limited to firm scolding.  No other country was willing to escalate it into a s#!t war coalition.  No one else seemed to really care about what Sycolians did to each other, and would prefer to just change the channel rather than watch the play-by-play.  Bizarreville would have to go it alone if it wanted to confiscate these evil weapons.
The President claimed he wanted to review the options with congress, but they were still adjourned for their 2-month summer break.  He had petitioned them to reconvene for this vital national crisis, but most just laughed.  "Put me down for a No," several emailed from their beach houses.
The President indicated he would go forward without the support of congress, the public, the allies, friends, family, colleagues, world opinion, or his barber.  He said that his pedicurist supported his position, but was not sure if it represented her understanding of geo-politics or just wanting a bigger tip.
Disclaimer:  all stories in Bizarreville are fiction.  Names have been changed to protect the incompetent.