Posts Tagged 'stimulus bill'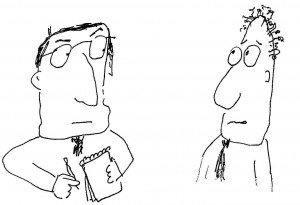 Good afternoon.  Today we're speaking with a member of the Bizarreville White House cabinet.  Your name is…                                           You can just call me Mr. Ambiguity.   Okay, fine, Mr. Ambiguity….we understand that you have recently met with a host of 'Fat Cat' bankers (I believe that is what you called them).  These would be, what….the CEO's of some large banks?                                           Yes.  We met with these overweight greedy                                         Master Bastards earlier this week.  Read them the                                         full, unabridged Riot Act for causing the whole world                                         financial crisis, which put the country in this recession.                                         It was a brutal butt-chewing… poop on the ceiling.   I heard that you did all this over a lavish dinner of 2-inch thick New York strip steaks, fine Napa cabernet, and creme brulee.                                           Well, yes.  We wanted to thank them for paying back the                                         stimulus funds early, several months ahead of schedule.                                        And for starting to ease up credit a bit for small                                        businesses out there.   I thought….I mean, earlier you sounded like you had been angry at them for getting into trouble in the first place?                                           Damn straight.  We pointed out in no uncertain terms                                         their loosey goosey lending policies…approving loans                                         for gold bricks and ne'er-do-wells who had no intention                                        on ever repaying.  We told them if it ever happened                                        again, someone would be going to jail.   But weren't you guys the ones who told them to make credit easier so that more people could afford personal homes?                                           Yes.  And we thanked them for taking on such a                                         daunting challenge, responding to our suggestions.                                         They helped millions of people out there, literally                                         millions.  We gave each one of the bankers a poinsetta                                         as a token of our deep appreciation.   Daunting challenge?  They used all kinds of hedging and derivative schemes with reinsurance tricks.  Those guys are
professional
bankers, for crying out loud…trained, trained, and re-trained in proper accounting methods.                                           We agree.  These knuckleheads know better.  Have                                         half a mind to call their alma maters and revoke                                         their college degrees.   Why haven't you done that already?  What are you waiting for…an Act of Congress?                                           Well, some Bankers have been pretty nice, outstanding                                         contributors to our campaign…hundreds of thousands                                         of dollars of welcome loot.  In fact, a couple of them are                                         staying in the Chester Arthur bedroom as a reward for                                         being such loyal friends.   So they've basically pre-bought your silence, when it comes to calling the college dean?                                           Hell no.  In fact, I just put it on my To Do list.  Here it                                         is…right here:  Call Harvard on Tuesday.  I'll rip them                                         a new one Tuesday.   Well thank you, Mr. Ambiguity.  You certainly have lived up to your stellar reputation.                                           Thank you.  It's been a pleasure talking to you…except                                         for the times when it was boring and mundane.  Where's                                         the door….this way?
The Bizarreville Stimulus Funding Disbursement Dept announced that there are 4300 agencies/companies who had received economic stimulus handouts, but failed to fill out the proper reports on what they are actually doing with the money.  While it only accounts for $25 to 30 billion of the total, it's still a significant problem, according to the department.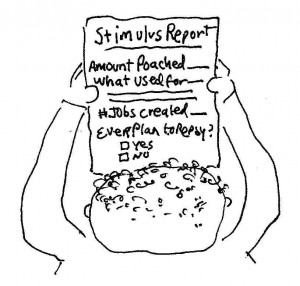 Part of the problem, admits the department, was known in advance.  "Many billions were given to groups of illiterate ignoramuses and/or people who can barely speak the English language, let alone write it," said a spokesman.  "How could we possibly expect these ignorant people to fill out reports?"  When it was suggested that the reports are extremely simple, easy enough for a D-student 2nd grader to fill out, the spokesman responded, "What's your point?"
Some other firms simply said that they do not have time or resources to complete the reports.  They claim they are too busy spending the money to be able to sit someone down to fill out paperwork.  But they have come up with a solution:  earmark some extra stimulus funds just to fill out reports.  "One bil…two at most…should cover it,"  reported a stimulee.  "Maybe three, if we hire a staff of graphic artists to make the reports visually appealing."
Some other firms claimed they were unable to get logged-onto the website to get the report template.  But department computer geeks cyber-investigated that story, reporting that they are unmitigated liars.  The geeks can show electronic proof that, yes, they did log-in, and yes, they did download the report templates.  The department is contemplating cutting off funding to these liars, but as of yet have found no legal grounds to halt the gravy train.  They suspect that funds are being totally misused, but can find no definition distinguishing "good use" from "misuse" in the bill.
Bizarreville was fortunate to get its fair slice of the Economic Stimulus bill, and it will be put to good immediate use.  The Bizarreville Unemployment Compensation building was tremendously undersized and needed help.  Stimulus funds have been earmarked to expand the office capacity by a factor of 3, add 18 rows of new cattle gates, and install a high-tech number-taking system to handle the burgeoning flow of jobless applicants.
"We have jobless who are doing the carpentry work, saying it will now be much easier to collect their comp checks.  Of course, we reminded them that they aren't eligible anymore….got a pretty good laugh out of it…ha, ha, ha ha."
"But seriously…it's money well spent.  It creates jobs on one hand, and truly builds for our future on the other.  We will also be adding clerks and changing management practices to allow us to handle 4 or 5 times as many jobless as we could a few years ago.  May be able to do even better once we get things rolling.  I hate to say this, but we're hoping the Algoofco aluminum factory down the street shuts its doors so we can really test our new systems here.  My opinion:  we'll be ready."
The new number-taking system actually stamps the number on the applicant's left hand when he/she comes in the door.  No more little tickets that people whine about:  "Oh, I didn't know I had to take a ticket," or "Oh, I lost my ticket, but I'm really number 49." 
"That's been frustrating, let me tell you, but now it will be:  Let me see your dang hand, "49" or whatever your number is."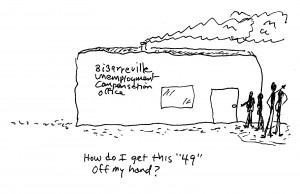 They're going to go ahead and spruce up the office restrooms while they're doing the rehab work.  There's a large "Unidentified Miscellaneous" category in the funding package, and the current toilets have those old large flush tanks.  "We'll save water and help the environment," claims the project manager.  As a finishing touch, they plan to use some leftover cattle gates to make an organized waiting line for the women's restroom.  "If there's another Stimulus bill, we may be able to add a baby-changing table in both restrooms…but we'll just have to wait and see."