Posts Tagged 'stimulus'
The Bizarreville Stimulus Funding Disbursement Dept announced that there are 4300 agencies/companies who had received economic stimulus handouts, but failed to fill out the proper reports on what they are actually doing with the money.  While it only accounts for $25 to 30 billion of the total, it's still a significant problem, according to the department.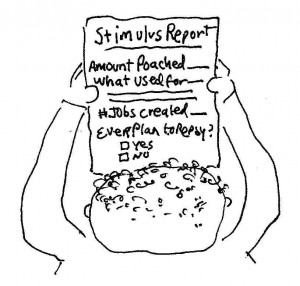 Part of the problem, admits the department, was known in advance.  "Many billions were given to groups of illiterate ignoramuses and/or people who can barely speak the English language, let alone write it," said a spokesman.  "How could we possibly expect these ignorant people to fill out reports?"  When it was suggested that the reports are extremely simple, easy enough for a D-student 2nd grader to fill out, the spokesman responded, "What's your point?"
Some other firms simply said that they do not have time or resources to complete the reports.  They claim they are too busy spending the money to be able to sit someone down to fill out paperwork.  But they have come up with a solution:  earmark some extra stimulus funds just to fill out reports.  "One bil…two at most…should cover it,"  reported a stimulee.  "Maybe three, if we hire a staff of graphic artists to make the reports visually appealing."
Some other firms claimed they were unable to get logged-onto the website to get the report template.  But department computer geeks cyber-investigated that story, reporting that they are unmitigated liars.  The geeks can show electronic proof that, yes, they did log-in, and yes, they did download the report templates.  The department is contemplating cutting off funding to these liars, but as of yet have found no legal grounds to halt the gravy train.  They suspect that funds are being totally misused, but can find no definition distinguishing "good use" from "misuse" in the bill.
The Bizarreville Job Summit is concluding, and the roundtable of guys-with-briefcases (i.e. experts) participated in good constructive debates on how to best stimulate job growth.  Their answer:  infrastructure improvements.
The first infrastructure priority will be to revamp the entire Bizarreville sewer system, which has badly deteriorated over the decades from the high acid content of our citizens' urine.  In the past, however, it has been difficult to embark on the sewer project for two reasons:  (1) too little funding available to pay for the project, (2) too much foul odor to attract good mechanics to fix the problems.  The first issue:  no problem.  But the second issue is still a big concern, and may ultimately require some out-of-the-pipe thinking.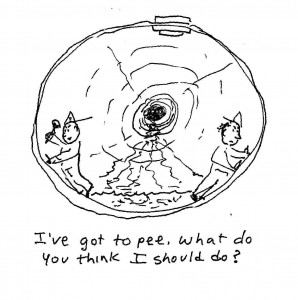 "I'm not friggin' Ed Norton," said one journeyman after refusing to traipse down the manhole.  "I looked down there in that yellow river and almost passed out after 15 seconds.  What have these people been eating around here?"
"One of my buddies used to work in the sewers 10 years ago.  And you know what?  He still stinks.  That's right…you can still smell sewer on him.  Even if he puts on after-shave, he just smells like cinnamon-scented crap."
Leaders say that they will not be dissuaded by the working condition issue, and vowed to pull out their checkbooks to find some shmucks/ any shmucks who will slop in the defilement for a price.  "May cost a couple hundred bucks an hour, but by God, we'll find low-lifes with low scruples who'll do it," said a spokesman.  "We may not get high-skills, but we'll make up for it with more warm bodies.  Hey, that'll reduce unemployment even more." 
When asked about training these subtrained workers, he replied,  "I can teach my grammaw how to weld pipe.  Granny'd probably do a better job than these 'I'm too good for sewers' prima-donnas anyway."
Old Fred has continued to whine and chime about getting his own little piece of the Stimulus Bill.  Everybody knows that Fred's Discount Hardware and Adult Bookstore has been through some hard times lately.  His customer volume took a cannonball dive when the WalMart opened across town, and the citizens realized old Fred was practicing acute hosery on them.  The Good-ole-boy Fred prices for fittings, tools, and goops were, in fact, the Anti-Discount, prompting clergy to perform retail exorcism in the store.  Bizarreville faithful soon gave Freds the 1-finger sayonara, and logged him off.
But Fred, ever the entrepreneur, kept moving forward by expanding into other weird niche offshoots and kooky inventage.  He stocked the first doorbell which employed smell instead of sound.  He insourced fertilizer development and packaging.  He taught Plunger classes in the back office to anyone needing a refresher.  He promoted "Overalls Thursdays", no T-shirt required.  There was no end to his cleverness.
But in spite of all these seemingly brilliant, innovative product extensions, Fred's sales tanked, and he started losing moolah.  Of course, he claimed the whole economic slowdown constipated his ability to pay bills, which ultimately caused suppliers to put liens on his bins of nuts and crates of other fastening units.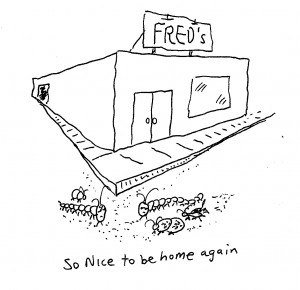 When he went to Screwbird Bank & Trust to try and get some relief, he found out that the bank had just gotten a $100K government bailout to stay afloat…but would not lend Fred one red cent.  They told Fred that his business model stunk, and that the odor was not just the wafts from his compost pile out back.  Said his sales strategy looked like it was written by a 3rd grader, which ironically is exactly how far Fred made it in school.  Fred got so frustrated that he flatulated in a fuss and stormed out in a cloud of noxiousness.
We all hope that Fred gets his bailout.  If he doesn't they say they will tear his building down.  And there's a lot of folks who hope that won't happen for various undisclosed reasons.