Posts Tagged 'sports analogy humor'
The Bizarreville Skunksprays football team finished once again in last place with a pitiful 0-16 record.  There will most certainly be plenty of handwringing and February quarterbacking about why their team is sub-dysfunctional and why their performance is litterbox-ready.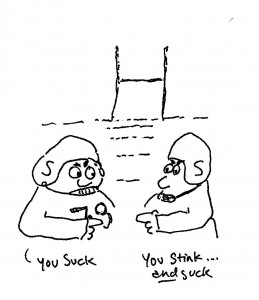 But after the last game of the year, Bill "Skinny" Skurff, the retired coach from Bizarreville High School, had the whole problem figured out.  "The Offensive team does NOT like the Defensive team, and vice versa," he said.  "I mean, they really hate each other."  The coach went on to say that their mutual dislike prevents each side from focusing on what's important, and ultimately stymies the Skunksprays from coming together as a team to become successful.  "That, plus the players mostly suck."
Video tapes of the seasons lowlights confirm that Skurff is right.  In one game, after an inadvertent fumble by a runningback deep in their own zone, you can see the Defense coming onto the field flipping the bird to the Offensive players.  Later, after the Offense drove 92 yards to score a touchdown, you can see the quarterback unloading the F-bomb on the Defensive line players resting on the bench.  Then later in the game, when the score was close and the game was on the line, both sides were engaged in some "kiss my ass" banter, which ultimately resulted in a crucial Delay-of-Game penalty that became their undoing.
In another game, video tapes show both sides mooning each other during a TV timeout, while the opposition team members just watched dumbfounded in amazement.  "What's wrong with those idiots over there?" spouted the opposition quarterback, who later threw for seven touchdowns in an 81-3 win over the Sprays.
Coach Skurff said that if both sides could show more respect and truly work together to help each other, results would certainly improve.  But they first must come down off their high horses, remove boards from certain crevices, develop a little humility, and start thinking of themselves as ONE team, not two teams.  It's called team bipartisanship… recognizing that Defense and Offense can be adversaries and see things differently…but can also find common ground.  Each side has different roles, different skills, different ideas how to win.  But acting as one team and all players executing their roles well, supported by coaches who build and bring people together could take them out of pathetic perrenial last place dwellers up to perhaps a solid "mediocre" level.  And who knows….get rid of a few no-talent scumbuckets, replace them with skilled, smart players who don't deficate in their own pants…and it could be conceivable that the Skunksprays could break .500, maybe not likely, but possible.
It's hard to teach an old Skunk new tricks, so miracles are not expected.  Bookies are giving short odds on another 0-16 season next year.