Posts Tagged 'socialists'
The Left wing Administration, during the process of rolling-out their Total People Control program, have begun to feel a wee bit of pressure from ordinary citizens.  People are finally waking up from their political sleep, defogging their brains, and coming to realize that they could end up losing a lot of freedoms in the future, as these Changes You Can Believe In elements take hold.  More and more citizens are starting to get vocal at Tea Party rallies and Town Hall meetings.  Others are sending emails to their representatives…but of course, those are pretty much getting s#!*t canned by screeners, who are protecting the representatives' delicate ears from such blatant in-your-face feedback.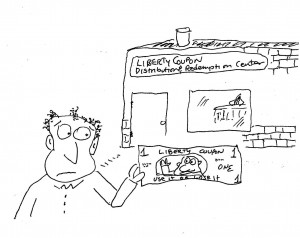 But last week, the Administration staffers got their eggheads together and developed a fool-proof plan to combat this wave of discontent, and get on a new course to change public opinion.  One of the Senior Gophers came up with the brilliantly innovative idea of issuing Liberty Coupons.  For that bit of initiative, the Gopher was given 2 free movie passes to the theater of his choice and 1 large popcorn/Coke combo…total estimated value of over 100 bucks.
The Liberty Coupons program would work like this.  Liberty Coupons could be granted by any member of government to individuals who have displayed superior loyalty, taken brave action to help crush any opposition, or just suck-up well.  These coupons could be sold or traded, but each coupon would allow the bearer the privilege of garnering one small act of freedom.  Multiple coupons could be used for larger acts of freedom.  All coupon redemption offers would be illustrated in a full-color catalog, produced by the new Department of People Control.
For example, one Liberty Coupon could allow the bearer to procure a simple act of freedom, such as being entitled to read a Sean Hannity book, buy a Rock&roll CD, or be allowed to cut down a tree on his/her property.  Trading in 5 Liberty Coupons could allow you to visit the Doctor of your choice, or perhaps be able to purchase a large order of fries at a designated McDonalds or Burger King.  A five-spot could allow a citizen the right to buy a 6-pack of Old Milwaukee beer at a non-governmental beverage distributor.  Or, it could allow you to paint a wall in your home a color other than the normally prescribed "Autumn Wheat".
And it would go up from there.  Ten coupons, for example, could permit you to lock your home doors.  Twenty coupons would allow you to purchase a non-hybrid vehicle…and for 2 more coupons, you could actually be allowed to buy a diesel.  Mind you, the coupons don't cover the price of the merchandise you would have to pay…only the right to be able to make the purchase….consumers would still have to fork over the dough, in addition to the Coupon. 
Thirty coupons would permit you to send your children to a non-ghetto school…or allow you to accept a job in the rapidly dwindling private sector…that is, if there are still any jobs available.
The Administration likes the program's premise, in that it is modeled after the successful Rewards programs that people now love so much.  And the Liberty Coupon program will encourage the behavior of "saving up" for those freedoms that people cherish the most, rather than just wasting Liberty Coupons on small trivial freedoms that don't really matter that much to them.  All in all, the staff seems enthusiastic about finding this common ground with the Freedom Seekers contingent out there, and plan to get this program rolling on a fast-track by July.
Disclaimer:  all stories in Bizarreville are fiction, even the ones that seem quite real.
The administration announced today that Keith Uberman, famous sports anchor-turned-leftomaniac, has been appointed to the new position of Propoganda Ministry Czar.  He will be able to keep his current position as angry commentator and socialist bureau chief at MS-NBC.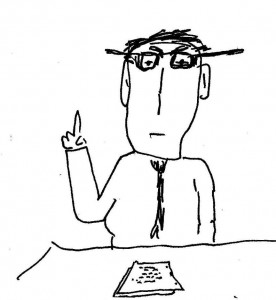 The administration spokesman said that the President has been a big fan of Uberman's snappy, passionate, over-the-top blathermanship of the extreme liberal agenda.  They see a role for Uberman in creating a series of films, television specials, commercials, and other media delights that will better persuade the naive public to their way of thinking, the proper way of thinking.
"We have tried and tried and tried to explain to citizens the wonderful benefits of socializing medicine, nationalizing industry, sharing wealth, and taxing the piss out of anyone who earns a decent salary…but, I guess, the citizens are just too darn thick-skulled to understand it," the spokesman said.  "But we blame ourselves for not delivering a clearer message that can be understood by people who are, quite frankly, less intelligently-endowed than us.  That's where Uberman comes in.  He'll take pages out of the best propogandists in world history, and apply it to the issues of today.  And to work with him, we will choose from a long list of liberal Hollywood-types to score the background music to tug those emotional strings of the viewers."
MS-NBC did not offer much comment except to say that occasional loss of Uberman's service is not expected to have much impact on audience share.  "We may just put a cardboard cut-out of his upper body in his seat, and have a mic'ed impersonator offstage delivering his monologue commentaries.  We've tested that concept with focus groups of typical MS-NBC viewers, and honestly they can't even tell the difference.  We may try to add that Clutch Cargo lip movement special effect to help make it look even more real."
A spokesman for Conservatives was asked to comment, and said he remembered how funny Uberman was as a sports anchor on ESPN.  When asked about his shift over to hard-left commentary, he said that they all thought he's just been kidding… just being a deadpan sarcastic wisenheimer all this time.  "You mean he's actually being serious with all that liberal drivvel??   Ha, ha, ha, ha…could have fooled me!"
Disclaimer:  all stories in Bizarreville are fiction, even the ones that seem so real.
Nancy Pelosi yesterday ordered all of her liberal colleagues to immediately pick up a copy of the new book, "Karl Marx Unleashed".  She said that it is high time we stop pissing around, nibbling away at important issues like auto industry nationalization, health care for the proletariate, and jail time for all capitalists.  "It is time for decisive, revolutionary-type action…that's why the public elected us, and that's what we are obliged to deliver…and deliver now before all the whackos on the Right have a chance to hose us down and extinguish the liberal flame within us."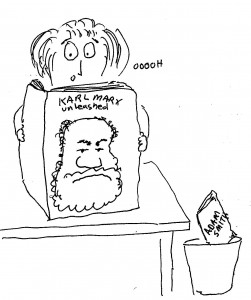 The new book, authored by Elmwood Skank, a professor of Political Science Mythology at Dweeb College, puts a brand new spin on old Karl's 19th Century ideas.  He points out that Marx was like an Industrial Age Nostradamus, predicting that the working class would get pissed at CEO salaries and bonuses, that capitalism would cause major boom/bust cycles that would devastate so many speculators, and that the New Orleans Saints would eventually win the Super Bowl.  Of course that last prediction requires the reader to take a few interpretive symbolic leaps to make the connection.
But his communist fundamentals, according to Skank, ring true today…including the concept of sharing the wealth, helping the lazy, replacing competition with kumbaya, and disincentivizing initiative that, oh so often, leads to greed.  He invokes the famous Rodney King quote, "why can't we just get along" to describe the societal problem with police brutalizing people just because they break a few laws here and there, threaten a few people, and terrorize the occasional neighborhood…or a dictator in Iran who just wants to be loved by the world communicty.  Karl Unleashed would get them all together and smoke a peace pipe…4 or 5 puffs and they would all get along just fine, thank you.
Nancy has become so inspired that she has gone to the library and picked up writings from Lenin, Engels, Trotsky, Mao, and Castro to really bone up on Marxist thought, and help her turn it into Action.  She has instructed her colleagues to develop a "Contract with Karl" set of 10 fresh new legislative bills to get this revolution into gear…high gear.  She has tried to not be too prescriptive, but hinted she would like to see things like food rationing, apartment-size equalization, and more public transportation to replace individual cars.
A Republican spokesman was asked to comment, but just shook his head and said "Wow".
Disclaimer:  all stories in Bizarreville are fiction, even the ones that sound like they could be real.