Posts Tagged 'obamacare web site'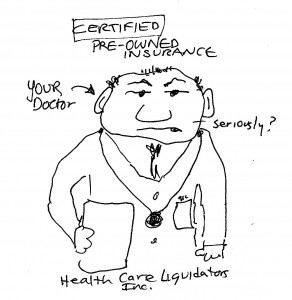 Attention Obamacare Shoppers:
You have been frustrated, waiting and waiting to be able to get service at the crippled Obamacare website, right?  Then, when it looks like you finally get a connection, you get dumped into a cyber-waiting room for endless hours.  Meanwhile, your previous insurance company has cancelled you, leaving you buck naked from a health coverage standpoint.  A crying shame.
Well, now the wait is over.  The administration has contracted with Health Care Liquidators Inc. to offer citizens whose health care programs have been obliterated a special deal:  pre-owned health care coverage at discount prices.  This new program has been certified by the Obamacare Death Panel Oversight Committee, and promises that the certified pre-owned coverage will be just as good as new coverage.  The committee guarantees policy owners can keep their old doctors…provided those doctors are registered with the Health Care Liquidators network and are willing to accept the discounted fee structure.
These policies have just come from owners, like yourselves, who bailed when Obamacare looked to be the new fad.  Some pre-owned policies have slight cosmetic damage.  Whereas they might not look attractive to purists, or have the fabled new policy smell, they will still function adequately in most situations.  Administration officials have said, "Hey…it's better than nothing."
Be one of the first to enroll in the Certified Pre-owned Health Care policy program, and you will be automatically enrolled in a drawing for a free 4-slice toaster.  The toaster slots are wide enough to jam bagels, texas toast, even hot dog buns.
Disclaimer:  all stories in Bizarreville are fiction, at least so far