Posts Tagged 'ncaa sanctions'
The University of Bizarreville yesterday was stripped of its 4th place conference football finish when it was learned that the school violated BCAA rules.  UB's star right guard has been alleged to have accepted a double cheeseburger and large fry combo meal from a UB alumnus last October at Slim's Taste-d-Grease Burger Emporium.  The BCAA official stated that they have video proof of Ernie "Longmember" Johnson walking into Slim's, taking delivery of the combo meal, and paying for it with what looked like a used Harry Potter movie ticket.  The burger clerk was found to be a UB alumnus who graduated with a History degree, and allegedly also slipped him a gratis hot apple pie.  Since that allegation could not be unequivocally substantiated, it was not included in the sanctions against the university.
Longmember Johnson will also be stripped of his football scholarship, be asked to return his jersey, and be forced to spend 20 hours of community service in the public restroom maintenance department.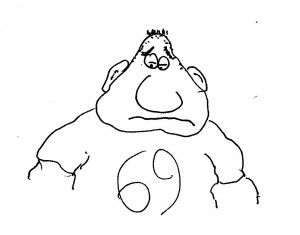 Longmember still insists that he paid for the burger meal with a folded sawbuck that just happened to look like a Harry Potter ticket.  He thought it might be some kind of commemorative 10-spot.  "For all I know, maybe it was honoring the whole Harry Potter series.  You know they do things like that all the time."  He also stated that the burger sucked and the fries were cold, for what it's worth.
The University offered no comment, except to say it would accept the vacating of its 4th place finish.  A spokesman said they would be meeting with all players and coaches to stress the importance of not accepting burger combo meals, whether they sucked or not.  "We'll be telling them it's not the quality of the violation meal that's important.  It is the principle of the thing.  Don't even accept a single White Castle, a Krystal burger, or a value-menu order of fries.  They're watching you.  One skinny little french fry, and you're home watching Lucy reruns with momma."
UB coach Snuffbucket was asked if he thought the team could repeat its 4th place finish without Longmember.  "Doubtful.  He was a large load on that right side.  Not sure we have anyone with that much sheer bulk to fill his shoes.  Be happy to get a sixth place next year."
Disclaimer:  all stories in Bizarreville are fiction, but generally not too far off the mark.