Posts Tagged 'liberals'
The ghost of Joe McCarthy came down (or up…he wouldn't say) to assess the current situation on communist infiltration into our society.  He was then instructed to compile a full report for the ghost of Thomas Jefferson.  Tom had heard disturbing news coming from some of the recent liberal dead guys who seemed overly exuberent… even in the afterlife.  Seems they were feeling some sort of redemption from a lifelong struggle to bring the share-the-wealth, handouts for everyone, no-deadbeat-left-behind mantra into being.  They were thinking they found the path to eternal righteousness.  Unfortunately for them, Tom had to tell them they were dead wrong.  He then commissioned McCarthy to check things out.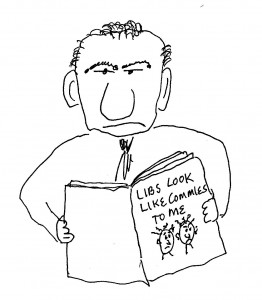 McCarthy was able to sneak into the secret Democratic Obamacare meetings where they were busy carving out special deals to buy votes.  He reminisced that these were so much like the heady old days in 1940's and 50's Chicago where modern sleazy dealmaking was invented.  But he was flabbergasted that the Cornhusker Kickback was such an unabashed public pants-dropping.  "In the old days, we had to keep our skanky deals under the covers in the red light district, politically speaking, of course.  These guys don't care who sees their soiled shorts."
Joe started taking note of names who appeared certain to be communists at high levels in the country.  Interviewing one uber-liberal congressman, he was amazed to hear him assertively say, "No way am I a communist!!  No way.  That's a mean-spirited ploy by the giant right wing conspiracy to mischaracterize me, my family, and my constituents.  It's just not right."  When McCarthy asked whether he believed in government health care, government control of oil companies and banks, restrictions on conservative talk radio, and sharing wealth by taxing the hell out of anyone earning a salary, his answer was, "Yes, yes, yes, yes, yes to all of the above."  When McCarthy suggested his political philosophies seem to line up more with Marx, Putin, or Mao, the congressman said, "You're a communist.  You are."
Joe chatted with 50 people on New York city steets, and 49 seemed to basically agree with the congressman.  The 50th guy was a wino who agreed with everything he said, then asked for a buck so he could wet his whistle before answering any more questions.
McCarthy had to report back to Tom that things have headed south since Reagan left office.  He asked Tom if he could come back down in life-form, recommission the House Un-American Activities committee, and bust a few chops of these softies.  But Tom said not right now.
Disclaimer:  all stories in Bizarreville are fiction.
The joint leadership of Congress declared last week the official end of bipartisanship and any pretense of both sides working together.  The exciting announcement was made together by both parties on the steps of the Capitol, after which the parties gave each other high-fives, chest bumps, then flipped each other the bird.  There was dancing in the street by all the citizens who have been sick and tired of all the mickey mouse for months.  The press corps also cheered wildly, and broke out bottles of cheap champagne to celebrate the end to the silly games of gotcha…although some reporters sadly realized that the funnest parts of their jobs may now be over, and they will have to go back to just reporting plain old boring news.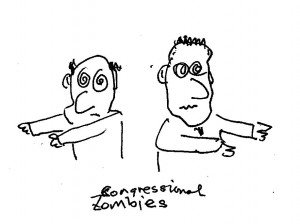 It was long overdue.  But the recent Health Care bill fiasco finally made all realize that enough is enough.  "We want to take the country into a new, exciting, changed world…a world of marxism, and they don't," said a Democratic senator.  "There's no reasoning with those slobs on the right.  They just want the same old/same old…with policies of minimal government that are so passe that no one in the world subscribes to anymore.  They need to seriously join the 21st century, and get out of their 1776-vintage old fogey ways.  Time to wake up and smell the latte, boys."
Republicans are also relieved at not having to bother with "finding common ground with skunks," as one congressman put it.  They had become frustrated after trying for months and months to interject one lousy little idea into the Obamacare bill, but were shot down and shut out on every try.  Conservatives had gotten angry over the secret backroom deals, the Cornhusker Kickbacks, making-up new far-fetched rules on the fly if Dems didn't like the old rules, and worst of all – using the Constitution for TP.  Finally, they said piss on it…we'll let the voters decide in November if they want Mao and his buddies running things.  They then bought themselves a round of shots at Murphy's Bar, and poured them down their gullets.
The party atmosphere is expected to continue through the St. Patrick's day holiday.  Liberals will be dressed in their customary orange outfits so as to not offend non-Irish people, and naturally are prepared to be cat-called "Protestants" on Wednesday.  All are hoping to avoid confrontations like the ones last year, which unfortunately culminated in one drunken Lib yelling out, "Danny Boy was a tea bagger."  Naturally this erupted into fisticuffs with several black eyes, before the paddywagons took the drunk and his orange buddies away.
Disclaimer:  all stories in Bizarreville are fiction.
Bizarreville reporters have been able to get the inside scoop to help us all better understand Rahm Emanuel's new shower strategy to pressure various Dems to vote for the President's liberaloski agenda.  Many pundits had previously thought the shower thing was kind of yang showdown…but further investigation uncovered certain technical problems that made that approach non-feasible.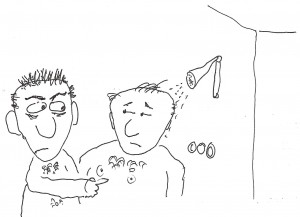 No, Emanuel is instead trying to break down the shyness barrier that is so prevalent in the country, so that people get more used to the idea of communal showers and public baths.  "After all," Emanuel said, " it was commonplace in Roman times for citizens to get naked together, bathe with each other, and wash each others' private parts.  Why, two thousand years later, are we so nakedophobic now?"
Communal bathing is a key cornerstone in his future vision for the country.  He considers people who have enormous master bathrooms and homes with multiple private toilets as "greedy crappers".  He has mentioned several times that he converted 3 bathrooms in his own home into small apartments for his in-laws, and replaced one small toilet in the remaining head with a communal trough for multi-users.  Rahm points out that his family saves 2000 gallons of water per year by these buddy-up conservation measures.
For smirkers, Emanuel responds that his setup will be the model for the future, when water rationing becomes law…probably in Obama's second term.  Meanwhile, he understands that some congressmen will complain about his jaybird strategy.  Female congresspeople could not be reached for comment.
Disclaimer:  all stories in Bizarreville are fiction.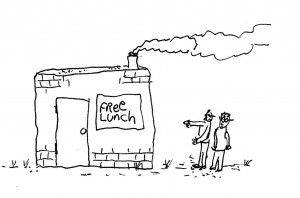 Disproving another adage, Bizarreville is now offering a Free Lunch from 12 noon to 1:00 pm Monday through Friday.  It is being done with no adverse impact to current taxpayers, and no strings attached.  It is totally free, and open to anyone and everyone who wants or needs a lunch.
Free Lunch will be available at the former home of Shanky's Bar-B-Q, the originators of the baby back donkey ribs and the cabbage-flavored barbeque sauce.  Shanky's, as most know, went belly-up after the alleged food poisoning epidemic and associated lawsuits.
One word of caution for the lunch freeloaders who might be tempted to take advantage of this enticing opportunity.  The bill of fare consists of a variety of pre-digested, processed, and freshly scooped dog food…somewhat watery in texture and pungent to the nose.  It is not particularly appetizing, but it is free, and free in basically unlimited quantities.  Free Lunch also solves a perplexing environmental problem…but that is the subject of another story.
Free Lunch is brought to you by your friends on the Liberal Left, who believe that quantity is more important than quality, and that everyone has an inalienable right to the pursuit of food.  Free Lunch will be funded by the future, not-yet-conceived grandchildren of Bizarreville taxpayers.  Thank you letters have been written, and will be sent/opened when the babies are born and become old enough to read.  When the kids reach 21 years of age, they will receive the invoice.
"Today is a BIG day in America.  Only 36 thousand people lost their jobs today, which is REALLY GOOD…"
This, of course was a brief snippet from a speech made by Harry Reid on March 5th, after seeing the most recent jobless claims data.  Many people have heard this quote and concluded that Harry is totally out of touch.  But too often sound bites can be taken out of context and misconstrued.  So, in order to better understand the meaning and emotion he was trying to convey, we present the full speech below:
"Today is a BIG day in America.  Only 36 thousand people lost their jobs today, which is REALLY GOOD.  Sure it would have been better for our Party and the Liberal/Progressive movement if the number was more like 136 thousand job losses.  But we can't be greedy, and I ask my colleagues to take comfort that jobs are continuing to disappear, and what few are left are being swallowed up by illegal Mexicans.  Data clearly shows that more and more people are sucking on the government entitlement bosom than ever before.  Millions and millions more.  Don't believe that 9.7 percent unemployment number.  The real number is 17 percent.  That's right, 17 percent.  Believe it.  We're on our way to posting 20's.
"Right now the Senate is debating a new "Jobs" bill.  But fear not, my comrades, it's only meant to add jobs in a parallel universe to our own…with anti-matter people drilling for anti-matter energy in dry wells.  That's the kind of virtual jobs we will be talking about…job fiction.  But we must name it a Jobs bill to create the proper illusion and misdirection to fool the idiots out there.  We will use the buzzwords to make voters think we're creating jobs, while at the same time using the old sleight of hand trick to dump a few trillion in cash into the bottomless abyss to do absolutely, positively no good for nobody. Presto!   Ooooh, I'm getting shivers up my leg just thinking about it!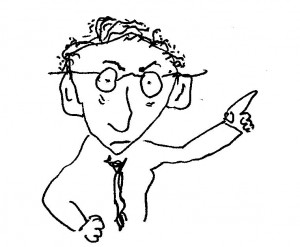 "So do not fear.  Do not pay attention to the trash talk and mis-characterizations that suggest we are nuzzling up with Republicans, Freedom Lovers, Tea Baggers, or other Capitalistas.  Ain't happening, won't happen.  I know I've lied to you before, but you have got to believe me on this one.  I promise on a stack of Communist Manifestos that I am true to our movement.
"But we all must stay diligent to the effort to bring down capitalism.  We must all work together to push the National Debt to astronomical levels, so that the evil Financial institutions start to crumble.  We must pass more outrageous regulations and taxes to drive those nasty industrialists to bankruptcy, so we can nationalize them just like we did at GM.  People said we couldn't take down a huge company like GM, naysayers gave us little hope…but we showed them all that it could be done.  But remember, one big filthy auto company and a couple bloated banks here and there are not enough.  There's still huge food/beverage businesses, computer/information technology industries, and diaper businesses that are ripe for the taking….no pun intended.  So, do your part to bring them down, one by one, quarterly disappointment by quarterly disappointment, greedy bastard by greedy bastard.
"Together, we can make change…change that you and I can believe…..wait, wait…are those cameras rolling?  Oh crap…Cut!  Cut!!  Shut those  f#*%r$  off, you  A$$#*!es!!  Oh geez….
Disclaimer:  all stories in Bizarreville are fiction, even the ones that sound so real.
The administration announced today that Keith Uberman, famous sports anchor-turned-leftomaniac, has been appointed to the new position of Propoganda Ministry Czar.  He will be able to keep his current position as angry commentator and socialist bureau chief at MS-NBC.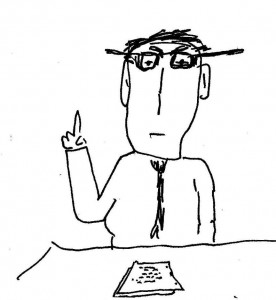 The administration spokesman said that the President has been a big fan of Uberman's snappy, passionate, over-the-top blathermanship of the extreme liberal agenda.  They see a role for Uberman in creating a series of films, television specials, commercials, and other media delights that will better persuade the naive public to their way of thinking, the proper way of thinking.
"We have tried and tried and tried to explain to citizens the wonderful benefits of socializing medicine, nationalizing industry, sharing wealth, and taxing the piss out of anyone who earns a decent salary…but, I guess, the citizens are just too darn thick-skulled to understand it," the spokesman said.  "But we blame ourselves for not delivering a clearer message that can be understood by people who are, quite frankly, less intelligently-endowed than us.  That's where Uberman comes in.  He'll take pages out of the best propogandists in world history, and apply it to the issues of today.  And to work with him, we will choose from a long list of liberal Hollywood-types to score the background music to tug those emotional strings of the viewers."
MS-NBC did not offer much comment except to say that occasional loss of Uberman's service is not expected to have much impact on audience share.  "We may just put a cardboard cut-out of his upper body in his seat, and have a mic'ed impersonator offstage delivering his monologue commentaries.  We've tested that concept with focus groups of typical MS-NBC viewers, and honestly they can't even tell the difference.  We may try to add that Clutch Cargo lip movement special effect to help make it look even more real."
A spokesman for Conservatives was asked to comment, and said he remembered how funny Uberman was as a sports anchor on ESPN.  When asked about his shift over to hard-left commentary, he said that they all thought he's just been kidding… just being a deadpan sarcastic wisenheimer all this time.  "You mean he's actually being serious with all that liberal drivvel??   Ha, ha, ha, ha…could have fooled me!"
Disclaimer:  all stories in Bizarreville are fiction, even the ones that seem so real.
Nancy Pelosi yesterday ordered all of her liberal colleagues to immediately pick up a copy of the new book, "Karl Marx Unleashed".  She said that it is high time we stop pissing around, nibbling away at important issues like auto industry nationalization, health care for the proletariate, and jail time for all capitalists.  "It is time for decisive, revolutionary-type action…that's why the public elected us, and that's what we are obliged to deliver…and deliver now before all the whackos on the Right have a chance to hose us down and extinguish the liberal flame within us."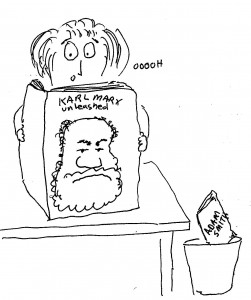 The new book, authored by Elmwood Skank, a professor of Political Science Mythology at Dweeb College, puts a brand new spin on old Karl's 19th Century ideas.  He points out that Marx was like an Industrial Age Nostradamus, predicting that the working class would get pissed at CEO salaries and bonuses, that capitalism would cause major boom/bust cycles that would devastate so many speculators, and that the New Orleans Saints would eventually win the Super Bowl.  Of course that last prediction requires the reader to take a few interpretive symbolic leaps to make the connection.
But his communist fundamentals, according to Skank, ring true today…including the concept of sharing the wealth, helping the lazy, replacing competition with kumbaya, and disincentivizing initiative that, oh so often, leads to greed.  He invokes the famous Rodney King quote, "why can't we just get along" to describe the societal problem with police brutalizing people just because they break a few laws here and there, threaten a few people, and terrorize the occasional neighborhood…or a dictator in Iran who just wants to be loved by the world communicty.  Karl Unleashed would get them all together and smoke a peace pipe…4 or 5 puffs and they would all get along just fine, thank you.
Nancy has become so inspired that she has gone to the library and picked up writings from Lenin, Engels, Trotsky, Mao, and Castro to really bone up on Marxist thought, and help her turn it into Action.  She has instructed her colleagues to develop a "Contract with Karl" set of 10 fresh new legislative bills to get this revolution into gear…high gear.  She has tried to not be too prescriptive, but hinted she would like to see things like food rationing, apartment-size equalization, and more public transportation to replace individual cars.
A Republican spokesman was asked to comment, but just shook his head and said "Wow".
Disclaimer:  all stories in Bizarreville are fiction, even the ones that sound like they could be real.