Posts Tagged 'job bill'
The President and his crack staff of econo-wizards have looked at the numbers:  10% unemployment, actually 17-18% including the underemployed and people who have thrown in the towel and given up trying.  Besides just being concerned, however, the team has decided to take firm action.  An Executive Order has been drafted which will require that everything that WalMart sells in this country must be made in this country.  No more ugly Chinese tie-dye t-shirts, Indian absorbent cotton jammies, or flabbergammers from Hoogivesacrapistan.  All merchandise, whether it be the semi-marginal quality stuff or the cheap, bargain-priced garbage futures, must be made here.
A WalMart spokesman responded that it is not fair to single out one retailer for this Executive Order…it should apply to all or none.  She claimed that this Order would force their "everyday low prices" to skyrocket up 30-40%, putting them at a disadvantage to KMart, Dollar Stores, and Fred's Funktown Econo-village who all carry similar low-end crap.  "This could drive us into being forced to sell quality-manufactured goods, a business segment we have no knowledge or expertise in.  How can the Administration possibly be expecting us to toss away our successful business model, and plunge into such uncharted territory?"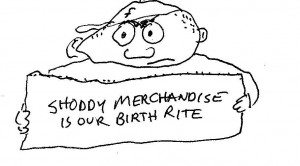 A spokesman for the President countered that these assertions are not true.  "Our citizens can produce the same off-quality and marginally-acceptable merchandise as the Chinese or the Hoogivesacrapians.  Maybe even better…or worse, whatever the case may be.  The President is convinced that this Order will bring back into the workforce those hordes of workers who haven't forgotten how to make over-priced, shoddy merchandise, and will be able to quickly regain those fumble skills, piss-poor attitudes, and "close enough, ship it" production behaviors that cannot be easily lost with just a few short years of mindless couch-sitting.
Melvin Farkwarf, a laid-off employee from Stumblebird Textiles and member of the Ironhead Workers United, agrees.  "I may have been a lazy, goof-off, unfocused, injury-prone dimwit when I was employed before.  But I believe now that I can work without getting hurt.  And that's the main thing.  I now have a Can-Do attitude…at least when it comes to some things."
"All they want is a chance," CEO Cornelius Stumblebird said.  "Just give us a level playing field with those A$$#*les, and we'll show what we can do.  We can make stuff people will buy.  Especially if they have, shall I say, limited choices.  Wait a minute…is this being recorded?"
Disclaimer:  all stories in Bizarreville are fiction, even the ones that seem pretty darn real.