Posts Tagged 'humor'
Reports from law enforcement offices are that drunken drivers over St. Patrick's Day were far drunker than years past.  Drivers pulled over and arrested had blood alcohol levels twice the legal limit on average, with some 3 times the limit.  Authorities are wondering what has caused this surge…but think they may have the answer:  Jello shots.
"We used to focus on excessive beer drinking," the Police chief said.  "But with the skyrocketing price of beer in bars, you will run out of money before you get drunk enough to be a danger on the road."
"We also had considered excess Margarita drinkage as a potential problem.  But our investigation showed that bars were watering the drinks down more and increasing the salt on the glass rims to increase their profit margins.  A perpetrator would just about go into a salt-poisoning overdose state before getting above the legal alcohol limit.
"But we finally came across the Jello shot trend, and believe that may need to be the problem du jour to be tackled.  We are in the process of encouraging bars to sell less-tasty Jello flavors like rhudabega or asparagus, if they suspect a customer has had too much.  That may not stop them, but at least may slow them down while they shiver and shake off the taste.
"As always, we encourage drunk customers to call for a taxi.  The only problem we've seen lately is that a lot of the taxi drivers are now getting drunk on jello shots.  And it is so hard to determine if a taxi driver is drunk, because they drive like such idiots when they're sober."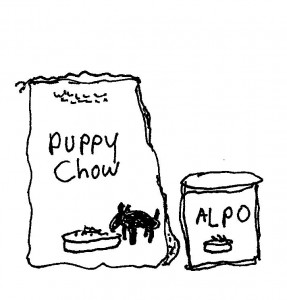 Investigative reporters have uncovered secret papers showing conclusively the Administration's strategy to begin the process of nationalizing the dog food industry before summer.  Dog food industry analysts were surprised and perplexed by this development, and initially failed to see how their business could be likened to autos or banks in terms of attractiveness for 100% government control….why not pick on film-making, beer production, or roto-rooting?
Larry Milfner, long time dog food industry analyst and inventor of the electronic pooper scooper, was not particularly surprised.  "Dog food is a highly strategic business for the country.  If some crazy terrorist group were to infiltrate dog food manufacturing and compromise their quality systems in a major way, the nation would have to start feeding its dogs cat food.
"This would create 2 problems:  First, the cat food would totally screw up the dogs' digestive systems, causing doggie diarrhea on a monumental scale.  Second, the cat owners would become outraged by the almost immediate dwindling of cat food availability, and the ensuing breakout of cat malnutrition.  There would be fist fights in the WalMart parking lot between dog owners and cat owners over precious cans of Fancy Feast.
"I could see a civil war developing in the country between the masses of dog lovers versus cat lovers.  There is already so much tension between these 2 sects, and this kind of incident would take it over the tipping point.  There would be brother against brother feuds, sister against sister 'cat fights'.  It would be bloody, and would require a leader with the charisma of Abe Lincoln to bring the sides together again.  And we've got no Abe Lincoln in the queue, believe me.
"Nationalizing the dog food industry, and for that matter the cat food industry too, is a logical step.  The government could bring in the whole Homeland Security force to provide the added protections that would preclude this catastrophic outcome to our nation.  I applaud the Administration for having this kind of foresight to protect our society."
Another dog food industry expert was interviewed and asked to comment on Milfner's analysis.  He said that it was high time that everyone realized the importance of dog food in our world.
BB:  Looks like the House is going to try to pass the Senate bill by some flakey "deem and pass" rule so they don't have to actually vote on this package of sheer stupidity.  Is that okay with you?
BO:  I don't give a  s#!%  what procedural tom foolery they use to jam it through…just so long as the pass the friggin thing and I sign it.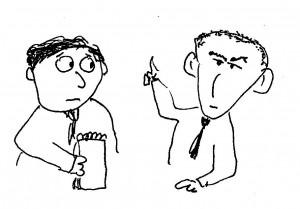 BB:  We asked our viewers to email suggested questions.  More than 18 thousand took time to email them in.  Here's one from California asking why all the intimidation, arm twisting, seedy deals…
BO:  Pfffft….18 thousand?  That's nothing.  I could line up 40 thousand left wing kooks in less than 15 seconds who want more arm twisting, more seediness, and a hell of a lot more intimidation.  That's why I've been stumping to intimidate these fence sitters.
BB:  But these are real people…
BO:  People, shmeeple.  Most of them don't know what's good for them.  It's like when our moms forced castor oil down our throats when we were sick kids.  We just held our nose and gulped it down.  If we had a vote in those days, the castor oil company would be out of business.
BB:  But what about all these skanky deals, like the Connecticut deal…
BO:  The who….what???
BB:  The Connecticut 100 million bucks for the hospital deal, or Montana special asbestos program, or Florida's special deal on Medicare.  The people in  Bumf%*k , New Jersey are wondering when their sweetheart package is coming down the pike?  People are saying this whole process is butt-ugly.
BO:  Okay, sure.  I, too, called this whole dealmaking process an "ugly" process at the Summit last month.  But the fact is, you have to do a certain amount of ugly stuff to get the votes.  I don't like it, Harry Reid doesn't like it, Nancy doesn't like it…but it's just something we have to do to get stuff passed.  The Republicans did the same thing when they were in charge.
BB:  But, sir, they did it on chicken sh!#  bills.  You are doing it on a bill that will impact one-sixth of the US economy.  One sixth, dude…
BO:  Yes, but we're not transforming one-sixth of the economy all in one fell swoop.  It's going to take a dozen swoops, maybe two dozen swoops before we get this health care program completely controlled by government.  I rejected a lot of strong demands from the Left who wanted a much quicker transition to socialized medicine.  But I said:  'Whoa…hold off until Swoop #3 or #4 with those notions so we don't totally freak out the country with our master plans.'  You see I'm trying to act like a centrist, and work with the other side.
BB:  The Congressional Budget Office has said the $500 billion you say you're going to save on Medicare is not even being spent on Medicare today.  Are you just making this stuff up as you go along?
BO:  Yes, partly.  It's kind of like what we did when we talked about job loss avoidance.  There are really not any new jobs being created, but how can you spin that kind of bad news?  Easy, just talk about how many jobs might have been lost if we didn't do these goofy programs.  We have excellent analysts who can gin up these fictitious numbers to make it sound good to the public…
BB:  Sir, you are filibustering again.  With all due respect, could you just answer the question without all your mindless blabbering?
BO:  The point is, yes, we play a numbers game…shifting money between accounts, so that we can say we saved here or there…when in fact we'll be spending cash out the ying-yang.  Some people have figured it out, but honestly, most citizens are too dumb to know the difference, especially our core voters.  They don't care about the $500 billion, they just care about getting that sales price on the Cheeto's at WalMart.
BB:  Well, sir, we're almost out of time.  One last question:  if this Obamacare bill doesn't pass, does this mean you will be considered by historians to be the most incompetent president since Millard Fillmore?
BO:  You're a pretty funny guy.  I'm surprised you haven't gone on the comedy club circuit, rather than hanging around the Creepsville at Fox.  Time to wrap this one up.  Good night.
Disclaimer:  all stories in Bizarreville are fiction.  But you probably figured that out already.
A consortium of Mid-East lawyers has announced plans to file a class-action lawsuit on behalf of hundreds of suicide bombers, against Al-Qaeda leaders.  The suit was initiated by a lawyer representing one of the recent 4 bombers who lit off in Kandohar over ther weekend.  The lawyer claimed he was visited by his client's ghost wearing a fire-retardant outfit, and smelling like a Burger King parking lot, wanting immediate justice.  The consortium spokesman said it would likely be a difficult lawsuit representing so many dead guys, but they were confident in ultimate victory.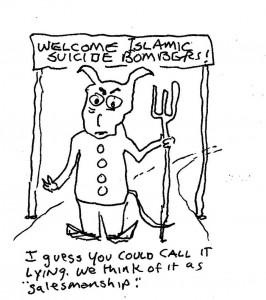 The problem, they say, comes down to a breach of promise made to the suicide crazies:  that they would receive an eternal perch in heaven and a bevvy of virgins, in return for their suicide act.  The lawyers say that they have conclusive evidence that these patsies, in fact, ended up in the hottest-stoked grates in hell.  Worse yet, the so-called "virgins" ended up being virgin sheep.
Al-Qaeda lawyers say that there is no such evidence, and that they have been assured by the Council of Islamic clerics that the eternal promises are rock solid and are truly being kept.  They have produced volumes of scripts from prophets and learned theologians as their so-called proof.
But the plaintiffs believe they have a winnable case.  They have conducted hundreds of seances, producing audio tapes and bonefide transcripts from top-notch mediums.  Lawyers claim they have quotes such as "I'm friggin burning up down here," "These sheep smell really bad," "My soul is past well-done, turn me over," and "Hitler sends his regards."
It is still an uphill battle in getting a judge to hear their case.  Much of the evidence will be considered hear-say, at best.  Cross-examination will be difficult, if not impossible.  And, naturally, the other difficulty would be the lack of a workable remedy.  Stay tuned.
At last count, the Democrats needed about 5 votes to swing from Maybe No to Maybe Yes on the upcoming Health Care vote in the House.  Some congresspeople have been sitting on the fence waiting for a Cornhusker kickback or a promise of a future modification to the Obamacare program to meet their own special need.  One guy said he was still a bit torn between representing his constituents and jumping on the Pelosi bandwagon, but said, "Hey, I can always go back to my original job when I get thrown out…an undertaker.  Lot less stressful, lot fewer complaints from the customer.  Pelosi even promised to send some deceased friends and clients my way.  Pretty sweet…"
Both sides are desperately scrambling to capture the waffler crowd.  Republicans, via talk radio, are encouraging voters to call/scream/email their congressperson.  Dems, meanwhile, convinced the President to cancel his agenda to talk one-on-one with these guys….even visiting them in the shower or stalls if necessary.  They feel that this type of intimacy will create a special bond that will help them see the President and his plan in a new light…and ultimately help them realize their position doesn't measure up.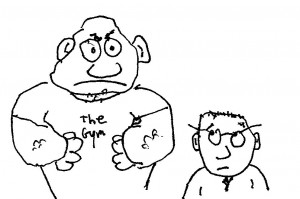 But just to be on the safe side, the Democrats are now pulling out all the stops, and starting to employ Elmer Goink, the Presidential gym instructor and piano mover, to provide a new level of persuasive techniques on the final holdouts.  Realizing that these holdouts are having "basic trouble" understanding simple expectations, the Leaders feel Elmer will help them make the connection.  They feel Elmer's special techniques will work well on the slight-of-build and/or frail old farts who seemingly just need a smidgen of extra encouragement.  These conviction-less people, many of whom surprisingly were used-car salesmen prior to election to Congress, may reconsider when Goink uses terms like unexpected brake failure, chunks of ceiling mysteriously dropping, and bear hugs run amok.
Democratic leaders are already confidently counting these people in the Yes column, and are starting to work on the next piece of government takeover…but have been coy on whether it is going to be the Fast Food industry, the Airline industry, the Kentucky Bourbon industry, or the Waste hauling industry…the latter being a somewhat logical choice since there is so much expertise in the generation side of the waste business already in Washington.  Whichever it is, they say that they need to move fast so they can have a vote before May Day.
Disclaimer:  all stories in Bizarreville are fiction, even ones that seem pretty darn real.
Continuing coverage from the Health Care Summit between the President and a group of very smart 5th graders.  The next respondent for the class was Rudy Dinglewonk, who took on question two:
Q2.  How can we get insurance for the 30 million people who do not have health insurance?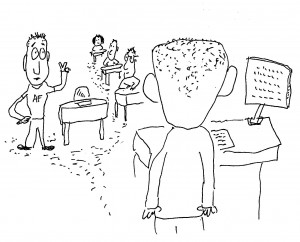 Rudy:  Well, sir, why exactly don't these people have insurance?  All the families I know on my block have insurance.  Jimmy Shmellboink had to go to the doctor last week when he sprained his ankle playing Curling on the ice.  His mom told my mom that they had insurance.  If all those millions of people want insurance, why don't they just go get it?
President:  Well, Rudy, some people are poor and can't afford to buy insurance.
Rudy:  Why can't we help the poor people and give them insurance?
President:  We do that already with a program called Medicaid.  It's a government-run program that helps poor people get health care.
Rudy:  So then if you have Medicaid, why don't those people just use that?
President:  Well, some people make too much money to be on Medicaid.
Rudy:  If they make too much money, then why don't they just go buy insurance?
President:  They say they can't afford it, with all the other expenses and bills that they have to pay for.
Rudy:  Like what kind of expenses and bills?  Is it food, or is it other stuff?
President:  No, they can afford food and other basic necessities.  But with other expenses like cable TV bills, cigarettes, Wii machines, soccer uniforms, Nike Air Jordan shoes, dinners out at Chuck E. Cheese, birthday parties and such…puts a lot of strain on their budgets.  They say that they don't have any extra money for health insurance.
Rudy:  Couldn't you just give them some kind of Discount Coupon to help them, so they could go get insurance?
President:  Well, it's complicated.  We could expand Medicaid, but unfortunately that's a pretty inefficient, cumbersome, disorganized, bureaucratic nightmare program already.  Expanding it might make it even more screwed up.
Rudy:  Why don't you just cancel it if it's not that good…and go with something that is good?  I know.  I used to buy SuperSlump comics last year, but they started getting real boring, and now I buy AstroClod.  It's a lot better, and pretty funny, too.
President:  Hey maybe we need an AstroClod makeover in our Medicaid program, Rudy.
Rudy:  I'd say go with something that works.  Don't try to fix something that's totally broken.  My little brother tried to fix his bike after it got run over by a pickup truck.  Man, that was a waste of effort.  He kept falling down and busting his head.  Dad finally bought him a new bike for Christmas and we threw that old piece of junk in the garbage can.
President:  Maybe your "Discount Coupon" idea could work.  I suppose we could just apply it to our existing Health insurance companies, and throw Medicaid in the garbage with your brother's bike.  The insurance companies are not perfect, but you know, overall they work pretty well.
Rudy:  Yeah.  My bike's not perfect, but I like it.  I wouldn't want to throw it away.
President:  Let's move on to question three…
(to be continued)
Disclaimer:  all stories in Bizarreville are fiction.
The President called a Health Care Summit conference at the White House with a select panel of 5th graders who had been contestants on the TV show "Are you smarter than a 5th grader?"  He did this after coming to the conclusion/realization that a handful of 5th graders were smarter than the entire body of Congress put together, could probably cut through the mumbo jumbo, and develop workable solutions to the health care issue.  The President asked 4 questions for the 5th Graders to deal with.  Little 5th grader Billy Smith responded to the President on the first question: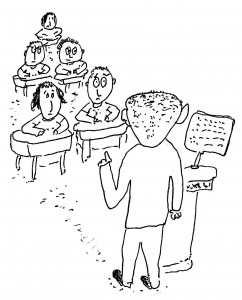 Q1. How can we cut the cost of Health Care?
Billy:  Mr. President, well, what's causing costs to go up so much, sir?
President:  Doctors are charging more and more for their services and procedures to help people get better, Billy.
Billy:  Well, why are they charging more and more?
President:  Because their costs keep going up.
Billy:  Why are their costs going up?
President:  Doctors say because Malpractice Insurance cost is rising so fast.
Billy:  What is Mel Crack Diss?
President:  Malpractice, Billy, is when people sue doctors because they think the doctor did something wrong when he was treating them.  They sue them for millions of dollars.  And they get the money because everyone figures it's just the insurance company that will be paying it.
Billy:  My doctor is a pretty smart man, and a real nice guy.  He's got 3 kids.  I don't think he would do anything wrong.
President:  You're right, Billy.  Almost all doctors are very good doctors and do the right thing.  It's extremely rare when a doctor is truly negligent.  But still, people keep suing and suing and getting lots of money for it, regardless if the doctor really did something wrong.
Billy:  That doesn't seem too fair.  If a doctor is trying hard and doing his best, he shouldn't be punished for that.  I know when I get punished for something like leaving the seat up, and I didn't do it, I get mad.
President:  Well, the doctor doesn't really get punished.  It's the insurance company that pays the tab.
Billy:  But didn't you say that the insurance company just goes ahead and charges the doctor more money?
President:  Well, yes…
Billy:  Why can't we stop people from getting lots and lots of money when the doctor didn't do anything wrong in the first place?
President:  Well, it's complicated.  We don't want to stop people from being able to sue a doctor when he really did something that was grossly negligent.
Billy:  I thought you said that was extremely rare?
President:  Ummm, I did…..I did say that…uh…let's see.  Well, it's like this…you see, the lawyers…ummm…the lawyers find out about these cases by hanging around hospitals a lot.  Now the lawyers are very nice people too, you see….ummmm…I tell you what, let's move on to the next question.
(to be continued)
Disclaimer:  All stories in Bizarreville are fiction, even the ones you would swear are real.
Last week, Limburger Waste Company announced plans to build a Mt. Trashmore type landfill at the old Skunksville Farms property.  Some citizens have complained that, if they do this, it will totally block the view of the famous "Bizarreville" sign, a beloved tourist attraction for visitors.  Leaders of the Tourism Bureau say that there is not much else to see or do in Bizarreville, so the sign "…is one of the few things we've got.  Plus, the landfill would stink."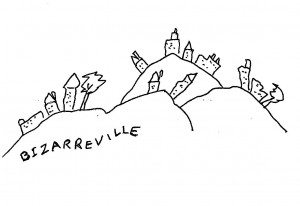 An ad hoc committee has formed to try and block the issuance of the land use permit that Limburger is trying to obtain.  The group is trying to attract rich millionaire movie star types to aid in their efforts.  They say that this is just the type of wheel-spinning goof-ball cause that would appeal to these prima donnas in between their red carpet doink-oramas. 
But they may ask the hoidy toidy set to also chip in some cash.  The committee would like to be able to buy the Skunksville land and turn it into a park.  A couple of the members even took the initiative to go buy a swingset, plop it down at Skunksville, and have their kids play on it as a pre-emptive photo op.  Unfortunately, they stuck the swingset on the side of a steep hill, and 2 of the kids flew off, tumbled down the hill, and whacked their heads pretty hard while the cameras were rolling.
Meanwhile, Limburger has stated that they will make beauty enhancements to the Mt. Trashmore after it fills up…grassy lands, trees, the whole bit.  In fact, they offered to relocate/transplant the Bizarreville sign to their new landfill mountain, squeezed right in between the methane recovery spigots…even add black-light spotlights so tourists can see the Bizarreville sign at night.
The Committee has not been convinced, and has pointed out that the seepage from the landfill would probably discolor the Bizarreville sign blocks, and ultimately dissolve them altogether.  They want to stop Limburger, and plan to fight to the bitter end.
Limburger has taken a practical approach to the matter.  They say that they might have to consider relocating the landfill to an alternative piece of property… right behind the Ad Hoc Committee chairman's home, if this "bitter end" deal doesn't work out.
The Bizarreville Luge team has reported that there is no friggin' way they are going to compete on that treacherous track that tragically took to life of a Georgian athlete.  "Even if they shave off part of Curve 16 and wall-off those steel beam headbusters, that won't be enough," according to a Bizarreville Luge team spokesman.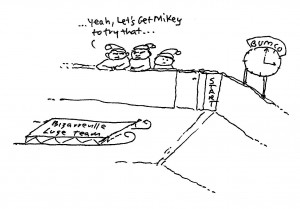 Officials say that the accident last week was no fault of the track, but was caused by human error.  The rider was identified as being too inexperienced and only ranked 44th in the world.  "Our best luger is 1044th in the world, for crissake," said the team spokesman.  "We really don't want to turn our team into a 6-pack of meatball sandwiches on that Chicago Stockyard Dissasembly Line."  The spokesman went on to say that the quality of their team's luge sleds is about one-half step above the Flexible Flyers at Walmart.  "You get one of those babies going 90 miles per hour sideways, with someone about as qualified as my grandmaw on it…you're going to end up with Brunswick stew."
The players are not upset at the decision.  The have indicated that they just wanted to come to the Olympics for the over-the-top festivities, trading pins with the Rooskies, and the free hot chocolate.  Team Captain Skinny Jenkins said that there's plenty of other stuff to do, and they might go try a little ski jumping just for the hell of it.  When asked about the danger of totally inexperienced people leaping through mid-air off a mountain, Skinny said they would let their youngest teammate Mikey do it…and if he broke some bones, they might just dog-off that whole idea, and go hit Happy Hour in the Athlete's Lounge.
But the luge sleds have now been retired, and the team may try to sell the sleds as souvenirs to some of the spend-happy Olympic fans here.  "Anybody who would pay good hard cash to watch a Curling tournament, might very well be stupid enough to buy a luge for 500 bucks."
Disclaimer:  all stories in Bizarreville are fiction.  And, as you can see, nothing is sacred with these idiots here.
The President announced that he has scheduled a meeting with Republicans in Congress to air out their ideas on health reform.  He also indicated that he will be using the newly released Bumco "Deaf Ear Listener" unit during the meeting to help get him through the meeting he described as "potentially excuciatingly boring and anti-productive".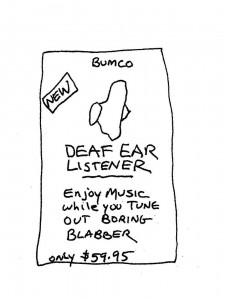 The Deaf Ear Listener(DEL) is an innovative new product that appears to be ideal for Democrats in government.  It is a very small unit that fits snugly in each ear, camouflaged to look like excess ear wax buildup.  The DEL effectively blocks the wearer from hearing any external sound, while a small chip inside the unit gently plays "The Best of Bread" songs inside his/her ears.  It just came out and sells for $59.95 a set, but there is already a hefty order backlog.
Inside sources say that the President will maintain a pensive, thoughtful look on his face to make it look like he is actually listening to the Republicans.  A reporter asked about what the President will do if someone asks him a question.  "Simple," the White House spokesman replied.  "He will just give some canned response that will have nothing whatsoever to do with the question asked…basically just like he does now.  It is doubtful that anyone will know the difference."
The insider said it is important for it to look like the President is listening to contrary ideas, especially in front of cameras.  "But at the same time, all that squealling and chattering could potentially stress the President out…may even cause him to lose his appetite at dinner.  The DEL is an excellent choice to protect his health and well-being.  More American ingenuity at work!"
Disclaimer:  all stories in Bizarreville are fiction, even the ones that seem pretty real.
The mayor of Bizarreville has volunteered to move the Khalid Sheikh Mohammed trial to Bizarreville.  This comes on the heels of hearing that New York City did not want any part in having the trial in their city for cost and safety reasons.  KSM will be tried in Judge John Axmaniac's court, who has guaranteed a speedy, no-nonsense process, total openness, and a fair outcome.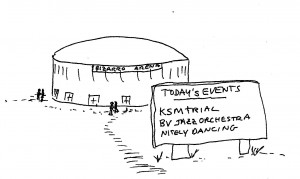 The judge will actually hold court at the 12,000 seat Bizarro Arena basketball stadium.  The public will be welcome,and will be charged 10 bucks a head for a daily ticket, but each day will include a concert by the Bizarreville Jazz Orchestra immediately following trial proceedings.  Dancing will be available.
Normal concessions will be served, including dogs, beer, cheesy nachos, and other sports-type refreshments.  To simplify matters, all items will be priced at $10 each, correct bills are required.  The concession company will also serve fresh tomatoes that can be optionally thrown at KSM and/or his lawyers if fans don't like what they see or hear during testimony.  Tomatoes will also be priced at $10 each, but fans can get 3 for $20 or a "frequent thrower" package of 10 for $50.
Film will be taken of the proceedings, and will later be turned into a feature length comedy movie, featuring Bill Murray as KSM and Dennis Miller as his hapless lawyer.  The Director will intermix real trial footage with comedy hijinx to make a film the whole family will enjoy.  Hilarity should reach a climactic peak when they all start throwing food at each other, a newly-trained apprentice underwear bomber gets knocked-out by a flying bench,  while the Judge keeps pounding his gavel until the head flies off and hits the bailiff in his private parts.
On a more serious note, the mayor understands the seriousness of the threat by Islamic terrorists during the trial, so he will have extra security people armed with bazookas at strategic spots near the arena.  Citizens in vans and SUVs will be warned to stay clear of the stadium's entrances, so that they don't get inadvertantly bazooka'ed.
As mentioned earlier, the Judge promises a speedy trial process. Much of the prosecution evidence is considered Top Secret, and will just be accepted as factual material without disclosure of details.  Defense has already agreed to not develop lame theories of the case.  And, in a surprising move, the Defense has agreed that during cross exam, prosecution witnesses can answer with a variation on the 5th Amendment, which they affectionately call the "Up yours, you friggin creeps" response to certain questions.
All in all, Bizarreville authorities think this could be a big money maker and are excited to get started ASAP.
Disclaimer:  all stories in Bizarreville are fiction, even the ones that sound real.
Reeling from the Massachusetts upset loss, the Libs and Obama administration coalition forces have been meeting almost continuously.  Realizing that their Master Plan to nationalize the country's Health Care system may go up in smoke, they have been frantically looking for alternatives.  Insiders say that the goal is still to nationalize at least 16% of the US economy, equivalent to Health Care…so Lib leaders have charged underlings to get out and find a new 16%…fast.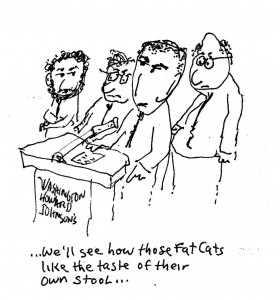 Obama officials are initially focusing on Banks, a huge element in the economy, and ripe for nationalizing.  The big banks have helped the President's case  by paying billions of dollars in bonuses and other perqs to the incompetent boobs that nearly bankrupted their companies…resulting in a public outcry.  The administration has also done a remarkable job blaming bank freewheeling capitalist lending policies & ignoring accounting rules that triggered the 2008-09 economic collapse, which the gullible public has accepted as fact.  Both sides of the aisle in Congress don't like bankers anyway, so there might not be much resistance to nationalization.
The first step could be passage of some new tough financial rules, affectionately known as Rules of Obnoxion.  The focus will be Punishment…punishment for making too much money, punishment for paying too many bonuses, punishment for executive desks too big, punishment for customer lunches too extravagant.  There will be punishment for lending certain people money who can't repay, and punishment for NOT lending certain other people money who also can't repay.  The new Bonus/Perq czar will work closely with the Lending Preference czar to ratchet up the pressure on the so-called fat cats.  By the time it's all over, they'll be overjoyed to become nationalized.
But just nationalizing banks will not be enough to achieve the goal, and sources say that anyone and everyone is fair game in the Nationalization Lottery.  One name that has popped up has been McDonalds Corporation.  Investigations have shown that McDonalds has been selling 3 sizes of fries with different size packets.  But it turns out that some restaurants put the same amount of fries in each one, regardless of packet size.  When this became public, outraged customers just said, "Nationalize those sons of a bitch!"  The company, scrambling, is considering Free Fries Fridays to prevent a stampede, and begin to repair its french fry reputation.
Opponents to Mac being nationalized point out that this would change the burger wars' competitive landscape.  "This new "Feddie Mac" subsidized by taxpayers could cut prices on Big Macs, or start handing out free Apple Pies with every order," a burger industry expert said.  "Burger King would have to find cheaper, lower-quality meat to stay competitive…citizens, chain your dogs." 
It is possible that the administration might just have to nationalize the whole burger industry, maybe throw in the chicken restaurant industry, too.  Stay tuned.
Disclaimer:  all stories in Bizarreville are fiction, even the ones that sound like they could be real.