Posts Tagged 'handouts'
In a surprising announcement yesterday, Elmer Shtootz, CEO of Burger World, announced that the company's restaurants would now be accepting food stamps for all purchases of food items, with the exception of hot apple pies.  He said that it was high time that everyone started realizing that poor people get tired of slaving over a hot kitchen stove just like other people, and need a break once in a while.  Mr. Shtootz revealed that when he was a child, his family had to rely on food stamps and would never take him to a fast food chain to enjoy the occasional greasy burger and fries, let alone a milk shake.  He said he was 30 years old before he even tasted a shake, only to find out that he was lactose intolerant.  He did not elaborate further on that.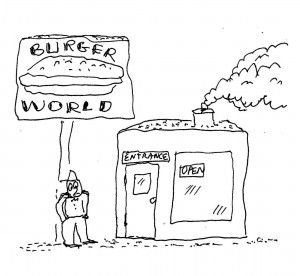 Shtootz indicated that all franchisees would also be expected to follow the lead of the company restaurants, and accept food stamps.  Any franchisee grousing would be considered grounds for sign removal.
The Bizarreville Health & Human Services Administration reported that restaurant acceptance of food stamps had been strictly prohibited in the past, but they were willing to allow Burger World to accept them on a trial basis.  The BHHS chief said that many food stamp recipients had complained in the past that it was unfair to have such an unreasonable restriction, and she was getting tired of listening to all the whining and bellyaching.
Another major fast food chain, Snarfburger Inc, has filed a charge of Unfair Favoritism by allowing Burger World to have this exclusive benny.  A spokesman indicated the company would take the issue to the Supreme Court if necessary in order to level the playing field in the burger wars.
One critic complained that this action was just going to make these poor people unhealthier that they already were.  He said that Burger World's burgers have so much fat that it takes one full pound of meat to end up with a quarter-pounder after cooking.  A BW spokesman said, "That's baloney."  It was not clear if he was referring to their new baloney burger which went on sale earlier this month, or just cracking wise.
One reporter asked Mr. Shtootz why the company was not permitting hot apple pies to be covered under the food stamp provision.  Shtootz responded that pies would have to be paid in cash in order to prevent the jumbo-size food stamp customers from loading up 4 or 5 dozen pies and running them out of stock.  He said they were also considering placing a limit on orders of fries per food stamp customer, but for now, were adopting a wait-and-see policy.
"The fries question is a much tougher one to deal with," commented Shtootz.  "Do you cap it at 5 large orders, but allow unlimited small fries orders?  And where does the medium size fit in?  It's all just too complicated."
Disclaimer:  all stories in Bizarreville are fiction.  At least for now.
Bizarreville economists have teamed with Research botanists to successfully create a new strain of mountain ash trees which produce money leaves.  That is correct…cash, moola, hard currency blooming on the tree.  This had been a long-term stealth research project for years which had struggled to achieve success.  The original goal was to encourage more tree-planting, but later the team expanded goals to include trying to discover a renewable source of currency.  But with hard work, determination, and genetic experimentation, success has arrived.
It takes about 10 years for the tree to mature before it produces full-size green twenties, and another 5 years before fifties will fruit.  But once there, each tree can produce bushel-baskets full of fresh cash, ready for immediate spending.
It's best to pick the cash before late autumn when bills start to shrivel, brown, fall off the trees, and rot.  Harvesting in September/October also times perfectly with the beginning of the frantic Christmas shopping season…so you can pick and shop, pick some more, shop some more.
According the the Bizarreville Tree Czar, plans are to plant these trees initially in the ghettos and other areas of economic distress.  This will allow underprivileged citizens to go out and pick some handfuls of fresh bills, then go buy nacho chips, TV's, underwear, athletic shoes, beer, and video games…whatever needs they truly need to fill.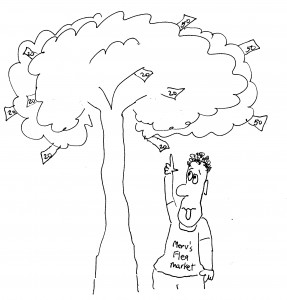 Eventually, the money trees will replace welfare and food stamps, and all the associated overhead with running these bloated bureaucracies.  The trees will also displace the new "Handouts for Anything/Everything" program, the "Deadbeats Cash Assistance" program, and the "Tax Breaks for Non-taxpayers" program, with a much more efficient way to distribute money. 
Economists remind us: "People who want to work a little harder and shake the tree or climb up on the branches can get a little more than those who just wait for the cash to fall off.  It's like an incentive program…which should sorta please ardent right-wingers who believe in rewards for hard work.  But don't worry, left-wingers, there's really plenty for everyone.  So enjoy!"