Posts Tagged 'flu'
Rather than griping and moping about the current shortage of the H1N1 virus vaccine, wily Bizarreville entrepreneurs have decided to get creative, and take things into their own hands.  Burning the midnight oil in their Disease Labs, a consortium of pathologists, medical professionals, and unemployed auto workers who happened to be staying at a nearby Holiday Inn Express came up with an alternate solution:  dubbed the F1Y1 vaccine.
Normally flu vaccines use dead virus bugs in their formulation, which develops an immunity to the new virus entering the body.  The consortium has a different idea:  "Screw that whole dead virus thing.  People just end up getting sick and sitting all night on the crapper anyway.  We don't mess with any viruses: dead, alive, suspended animation, none of that funky stuff."
The consortium used some out-of-the-box thinking in their approach to the problem.  They figured that the virus entering the body looks for something to feed on…why not provide some "special" virus food that will make them nauseated, and render them ineffective?
They devised a witches' potion made up of select ingredients:
Warm, ripe prune juice from a discarded junk refrigerator
An old can of skunked Schlitz Malt Liquor
Ground-up ultimate nachos with extra refried beans
Jello
Hair from a Rogaine user
A pinch of magic dirt from the Notre Dame football stadium
Perspiration from a hardworking congressman (very rare)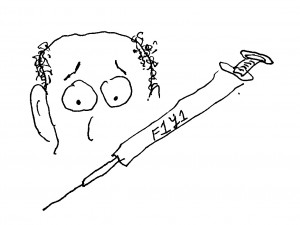 It's still technically in Beta stage of development, but early results look promising, and no one wants to wait.  And the good news is that, unlike the obscure unavailable H1N1 vaccine, the F1Y1 has been made in truckload quantities, ready for immediate administering.  Hazardous material vouchers have already been processed so that deliveries can begin.
One reported side-effect is the pungent odor that emanates from the pores of the newly vaccinated for 2-3 days.  When asked about this phenomenon, the consortium spokesman said, "No surprise.  What did you expect….hyacinth?"