Posts Tagged 'fiscal irresponsibility'
Complaints have been registered across the country pertaining to that sharp increase in the bothersome whooshing noise that cropped up on Sunday.  Ear Nose & Throat doctor offices have seen their waiting lines grow to a staggering half-block long.  But, unfortunately, the docs have been unable to offer their flustered patients any immediate remedy.
The Sucking Sound had been first warned by Ross Perot back in the Summer of 1992.  But his crackpot style made people refuse to take him seriously.  Nevertheless, he had forewarned of the Suckphonic Disturbance during campaigning, cautioning citizens to take action to prevent the calamity.  And for many years, although the suck became somewhat louder and louder, it had never quite reached the eardrum implosion level, until Sunday.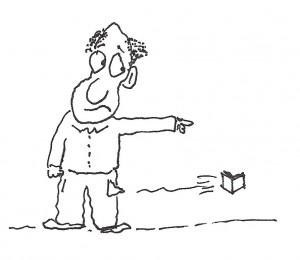 Several citizens complained that their wallets had literally gotten sucked out of their pants pockets as they walked along the sidewalk.  They would chase after the illusive sucked-away billfold, but when they caught up to it, all the bills had been sucked out, along with credit cards, medical insurance cards, and Lotto tickets.  Only photos of mama and condoms were left in the battered wallets.
Other citizens claimed that the giant suck pulled zeroes right out of their IRA's, instantly turning $200 thousand balances into 20 bucks.  One guy claimed it sucked so hard on his 401-K that it took a positive $90 thousand balance and turned it into a negative 90K. 
"How can that happen?!?" screamed the outraged middle-aged investor.  "Easy," his liberal/progressive congressman said.  "It's called sharing the wealth, sharing the dream, giving the less-fortunate a leg up…and teaching you greedy bastards a lesson.  Complain a little louder, punk, and we'll crank it up to Mega-Suck, and get your deficit into 6 digits. "
Meanwhile, however, the loud sucking sound is getting irritating, even to the sponge crowd.  They would like the same suck, but just less noise.  Since no one knows how to do that, lawmakers are expected to approve a multi-billion dollar grant for a high-level research project to study Quiet Suck technology at a designated left-leaning elitist college.  The money will come out of the new Health care slush fund.
Bizarreville Loan & Savings has announced an exciting new program for their loyal customers, which they are calling their Pounce, Bounce and Punt program.  With this innovative program, a person will be able to run unlimited overdrafts on their checking account by simply signing a Promissory Note that their children will pay off the balance starting 20 years from now.  The children, of course, will also be responsible for paying the accumulated interest.  But BL&S bank officials say, "Hey, that's 20 years from now.  Who knows what'll be going on by then?"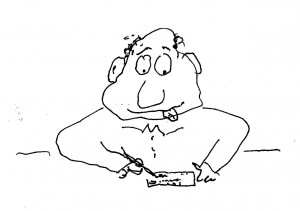 This exciting new program will allow families to go ahead and buy that giant flat screen TV, go to dinner at Ruth's Chris, buy that package of flying lessons, or take a cruise to Latvia…without having to sacrifice other necessary entertainment needs or make those silly, annoying trade-off decisions.
BL&S fully understands that there will be questions, so they have issued a Q&A package for their customers to ease their minds.  For example:  Q:  How can we get our 3-year old to sign the note; he can't even write yet?  A: Parents just stuff a pen in his hand and move it to make an X on the signature line.  Q: What about my unborn baby, does she qualify?  A: Absolutely.  Mom can sign the form then press it against her belly for pseudo-confirmation.  Q: What if the kids don't want to pay 20 years from now?  A: Worry about that later.  By then we'll all be retired and holed-up in some low-budget nursing home.  Q: Who will fund this deficit of checkbook willy nilly spending?  A:  Not sure.  Probably the Chinese.  Otherwise, the bank may have to float some junk bonds, which will probably end up being worthless. 
Many conservative lawmakers are appalled at this reckless concept, and fear that it could start a new wave of spending irresponsibility, with devastating long-term effects.  But, when pulled aside, many privately say that they will be quickly signing up to do the Overdraft Mambo so they can finally replace their worn-out naugahyde living room couches and Pier One wicker end tables with something just a little less tacky.
Meanwhile, other Bizarreville banks are kicking themselves for being caught flatfooted on this brilliant idea, and are scrambling feverously to try and duplicate it.  One rival bank insists they will do "one better" by incorporating  Promissory Notes assigned to grandchildren who won't even be conceived for another 20-plus years.  The innovative brilliance never ceases to amaze.
Disclaimer:  all stories in Bizarreville are fiction, even ones that sound like they could be real.
A federal judge issued an order yesterday requiring both national political parties to change their names, as a matter of what he called "truth in advertising".  The Democrats will be required to change their name to the Spendocrats, and the Republicans will be forced to change to the ReSpendicans prior to their 2010 political campaigns.  This was in response to a class-action lawsuit charging that both parties have been total imbeciles when it comes to spending discipline, with no apparent plans to rein it in…and seem oblivious to the problem as they dance through their field of daisies on Capitol hill.
Needless to say, both parties were outraged and have responded that there is no way in hell a judge has authority to make such an order.  Furthermore, they have both said that they are not spendaholics as some have charged, nor do they take hard drugs that would cause them to hallucinate that they are actually balancing annual budgets.  The Spendocrats and ReSpendicans have both stated unequivocally that it is 100% the fault of their predecessors who put them in this hole, and claim that it is only through enormously hard work and dedication that the fiscal situation isn't in a bigger hole than it is now.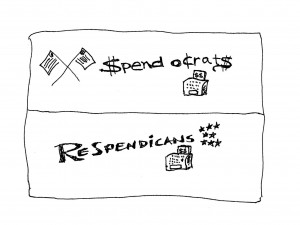 The judge countered with an expletive, then cautioned that if they fail to comply, the parties will be in contempt of court and will suffer appropriate consequences, which may include selective disqualification from November contests.  He recommended making the change quickly, so that new logos can be designed and new flyers, brochures, posters, and other nonsensical paraphenalia can be printed prior to the primary races.  The judge even doodled some possible logo ideas with old-fashioned cash register themes during closing arguments of the case to keep from falling asleep… which he gave to party leaders, gratis.  "Emphasize your strength, boys," he commented cynically just before he left the courtroom.
The judge had further ordered that all party leaders would have to either (a) resign, or (b) attend remedial arithmetic classes at nearby Shmeldmore Elementary School, under the tutelage of mean Miss Funkenheimer.  The 68-year old codgery math teacher has successfully taught over 1000 students in her career, some of whom were even dumber than these guys.  "She can teach total bozos how to do basic math, but may need to bust a lot of knuckles in the process," the judge said.