Posts Tagged 'fifth graders'
Continuing coverage of the President's Health care summit with 5th graders.  Next up for the class is Matt Burpmore:
Q4. How can we make the Health insurance companies themselves more efficient so that insurance costs can come down for the people?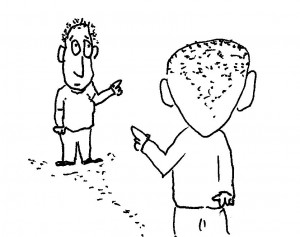 Matt:  Why are the health insurance companies inefficient now?
President:  Part of the problem, Matt, is that there's not enough competition among the health insurance companies.  When there is less competition, companies are not quite driven to reduce costs…so costs start going up.
Matt:  I see.  Thank goodness there's not just one company running all insurance…imagine how costs would go out of control if that ever happened!  But is there a way to get more competition going?
President:  One problem is that Health insurance companies can't compete from one state to another, so that limits how much competition there can be.
Matt:  Why don't you just let them go ahead and compete in other states?  Is there some reason that wouldn't be a good idea?
President:  Well, it's complicated.  It's like if your mom told you that you can only trade marbles with the kids on your street, but not the kids on the next street…because we don't really know them very well, and they might try to take advantage of you.
Matt:  I don't care if they're on the next street.  If some kid there has a marble I like, then I'm going to trade for it.  Wouldn't you?
President:  Yes, probably.  But there is still a problem with all these insurance companies just making too much money and getting greedy.
Matt:  Yeah, I know what you mean.  Last summer, my friend Johnnie Plunger set up a lemonade stand down the street and was charging 5 bucks for a glass of watered-down lemonade.  That was ridiculous.  He was being greedy, and I went over and told him he shouldn't be so greedy.  He told me to…well, I better not say what he told me I could do…but I'm not sure if it's even technically possible.  Anyway, I set up my own lemonade stand and charged 50 cents.  I had a line of customers a block long.  Twelve nano-seconds later, he dropped his price to 50 cents.
President:  Maybe there should be a government rule on the maximum price kids can charge for lemonade?  Say, no higher than a buck a glass?
Matt:  No, sir, I think that would create more confusion, because kids would just keep varying the size of the glass.  I think if you just left us kids to work it out, we'd work it out, trust me.
President:  Perhaps you're right.  Well, kids, thank you for all your insights on health care issues.  If all of us in Washington were as smart as you, we could solve a lot more problems quicker.  But that would just put all the pundits out of a job.  Have a great day.
Disclaimer:  all stories in Bizarreville are fiction.
Continuing coverage from the Health Care Summit between the President and a group of very smart 5th graders.  The next respondent for the class was Rudy Dinglewonk, who took on question two:
Q2.  How can we get insurance for the 30 million people who do not have health insurance?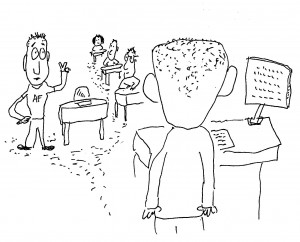 Rudy:  Well, sir, why exactly don't these people have insurance?  All the families I know on my block have insurance.  Jimmy Shmellboink had to go to the doctor last week when he sprained his ankle playing Curling on the ice.  His mom told my mom that they had insurance.  If all those millions of people want insurance, why don't they just go get it?
President:  Well, Rudy, some people are poor and can't afford to buy insurance.
Rudy:  Why can't we help the poor people and give them insurance?
President:  We do that already with a program called Medicaid.  It's a government-run program that helps poor people get health care.
Rudy:  So then if you have Medicaid, why don't those people just use that?
President:  Well, some people make too much money to be on Medicaid.
Rudy:  If they make too much money, then why don't they just go buy insurance?
President:  They say they can't afford it, with all the other expenses and bills that they have to pay for.
Rudy:  Like what kind of expenses and bills?  Is it food, or is it other stuff?
President:  No, they can afford food and other basic necessities.  But with other expenses like cable TV bills, cigarettes, Wii machines, soccer uniforms, Nike Air Jordan shoes, dinners out at Chuck E. Cheese, birthday parties and such…puts a lot of strain on their budgets.  They say that they don't have any extra money for health insurance.
Rudy:  Couldn't you just give them some kind of Discount Coupon to help them, so they could go get insurance?
President:  Well, it's complicated.  We could expand Medicaid, but unfortunately that's a pretty inefficient, cumbersome, disorganized, bureaucratic nightmare program already.  Expanding it might make it even more screwed up.
Rudy:  Why don't you just cancel it if it's not that good…and go with something that is good?  I know.  I used to buy SuperSlump comics last year, but they started getting real boring, and now I buy AstroClod.  It's a lot better, and pretty funny, too.
President:  Hey maybe we need an AstroClod makeover in our Medicaid program, Rudy.
Rudy:  I'd say go with something that works.  Don't try to fix something that's totally broken.  My little brother tried to fix his bike after it got run over by a pickup truck.  Man, that was a waste of effort.  He kept falling down and busting his head.  Dad finally bought him a new bike for Christmas and we threw that old piece of junk in the garbage can.
President:  Maybe your "Discount Coupon" idea could work.  I suppose we could just apply it to our existing Health insurance companies, and throw Medicaid in the garbage with your brother's bike.  The insurance companies are not perfect, but you know, overall they work pretty well.
Rudy:  Yeah.  My bike's not perfect, but I like it.  I wouldn't want to throw it away.
President:  Let's move on to question three…
(to be continued)
Disclaimer:  all stories in Bizarreville are fiction.
The President called a Health Care Summit conference at the White House with a select panel of 5th graders who had been contestants on the TV show "Are you smarter than a 5th grader?"  He did this after coming to the conclusion/realization that a handful of 5th graders were smarter than the entire body of Congress put together, could probably cut through the mumbo jumbo, and develop workable solutions to the health care issue.  The President asked 4 questions for the 5th Graders to deal with.  Little 5th grader Billy Smith responded to the President on the first question: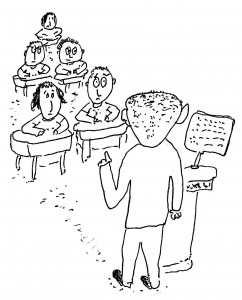 Q1. How can we cut the cost of Health Care?
Billy:  Mr. President, well, what's causing costs to go up so much, sir?
President:  Doctors are charging more and more for their services and procedures to help people get better, Billy.
Billy:  Well, why are they charging more and more?
President:  Because their costs keep going up.
Billy:  Why are their costs going up?
President:  Doctors say because Malpractice Insurance cost is rising so fast.
Billy:  What is Mel Crack Diss?
President:  Malpractice, Billy, is when people sue doctors because they think the doctor did something wrong when he was treating them.  They sue them for millions of dollars.  And they get the money because everyone figures it's just the insurance company that will be paying it.
Billy:  My doctor is a pretty smart man, and a real nice guy.  He's got 3 kids.  I don't think he would do anything wrong.
President:  You're right, Billy.  Almost all doctors are very good doctors and do the right thing.  It's extremely rare when a doctor is truly negligent.  But still, people keep suing and suing and getting lots of money for it, regardless if the doctor really did something wrong.
Billy:  That doesn't seem too fair.  If a doctor is trying hard and doing his best, he shouldn't be punished for that.  I know when I get punished for something like leaving the seat up, and I didn't do it, I get mad.
President:  Well, the doctor doesn't really get punished.  It's the insurance company that pays the tab.
Billy:  But didn't you say that the insurance company just goes ahead and charges the doctor more money?
President:  Well, yes…
Billy:  Why can't we stop people from getting lots and lots of money when the doctor didn't do anything wrong in the first place?
President:  Well, it's complicated.  We don't want to stop people from being able to sue a doctor when he really did something that was grossly negligent.
Billy:  I thought you said that was extremely rare?
President:  Ummm, I did…..I did say that…uh…let's see.  Well, it's like this…you see, the lawyers…ummm…the lawyers find out about these cases by hanging around hospitals a lot.  Now the lawyers are very nice people too, you see….ummmm…I tell you what, let's move on to the next question.
(to be continued)
Disclaimer:  All stories in Bizarreville are fiction, even the ones you would swear are real.