Posts Tagged 'entertainment humor'
Bizarreville's local NBC affiliate announced yesterday that it was totally fed-up with all the wankers running the network, is pulling the plug on these guys, and signing on to become some kind of PBS station.  They say that the latest nuttiness over who will host the Tonight Show has been the last shovelful of excrement in filling up the NBC manure wagon.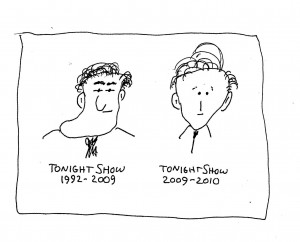 Bizarreville's station plans to keep a late night talking format, but with an intriguing PBS twist.  They will employ PBS' patented Pledge Drive babble for the full 55 minutes of the show without commercial interruption.  This format, according to the station manager, will be used to target the key market in that time slot:  folks who just want white noise to help them fall asleep in their beds.  Negotiations are underway with Joe "the Monotone" Barker to host the show by just drivelling nonsense continuously for 55 minutes, while old-fashioned telephones ring off-the-hook in the background manned by a panel of drones.  Joe has plenty of experience, and has hosted several interminable PBS pledge drives in the past 5 years with a droopy style that fits the new concept perfectly.
The station believes this talk format will be much more effective than the comedian format in terms of accomplishing the true goal:  doze-off.  They are confident that they can get a 90% konk-out performance within a 30-minute sleep timer.  The station has tested the concept with office staff people, and found most dozing off in 10-15 minutes listening to Joe, even during daylight hours with several pots of coffee at hand.  "We believe this will also make our viewers healthier by getting up to 30 minutes more sleep per night, and waking up more refreshed and energized," the station manager said.
NBC is paying attention, has gotten the lowdown on the Bizarreville concept, and is rumored to be studying something similar…especially in light of Leno and O'Brien telling them to stick the Tonight Show up their ass.   NBC has a stable full of mellow-voice yawnable candidates for hosting such a show, who cut their teeth in their limpy News department and have been putting the public asleep for years.
Disclaimer:  all stories in Bizarreville are fiction, even the ones that sound like they could be real.