Posts Tagged 'dismissing the general'
The President announced that he could no longer tolerate smart-alec insubordination and disrespect in his commanding general.  So he put his ass on a slow boat to Cleveland, and fired him on the spot.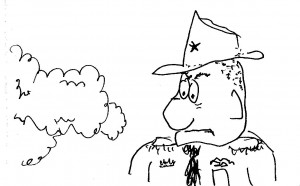 The General had told Lazy Funk magazine that he didn't care for the President's choice of underarm deodorant.  "He's got B.O., and the cheddar cheese fragrance of the roll-on (that he apparently gets from Cracker Barrel) makes the whole Oval office smell like a 400-pound jogger," said the General.  "If he's going to shop at the Barrel, maybe he ought to see if they have something a little less dairy."
Even though the General has had a distinguished 35-year career, and has led the nation in defending against nasty enemies and lunatics while risking his life, the B.O. comment was just too mean, too cruel, and very inappropriate, according to the President.  "The General should have just held his freaking nose like the rest of us," an Insider said.  "Maybe he could have just shot him a Ralph Lauren fragrance gift pack for Christmas, and let nature run its course."
The General said he has had a lot of offers and looks forward to joining the private sector.  Several cologne companies have allegedly made him attractive offers to be their spokesman, parlaying his notoriety as a sudden odor expert, and a solid defender of the right to not have to breathe stale air.  "It's in the Declaration…life, liberty, and pursuit of happiness…no way you're going to be pursuing happiness in a stink pot," he said.
The President appointed General Lucius Munkfard to the post as his replacement.  Munkfard is a highly decorated officer, who coincidently lost his sense of smell in Vietnam during heavy chemical bombing many years ago.  He said he can pretty much withstand any foe, whether it be enemy combatant or just pure unadulterated stink.
Disclaimer:  all stories in Bizarreville are fiction, even the stinky ones.