Posts Tagged 'democrats'
The Left wing Administration, during the process of rolling-out their Total People Control program, have begun to feel a wee bit of pressure from ordinary citizens.  People are finally waking up from their political sleep, defogging their brains, and coming to realize that they could end up losing a lot of freedoms in the future, as these Changes You Can Believe In elements take hold.  More and more citizens are starting to get vocal at Tea Party rallies and Town Hall meetings.  Others are sending emails to their representatives…but of course, those are pretty much getting s#!*t canned by screeners, who are protecting the representatives' delicate ears from such blatant in-your-face feedback.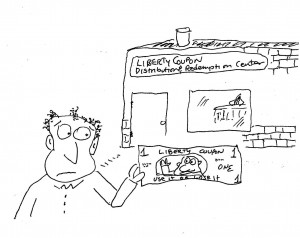 But last week, the Administration staffers got their eggheads together and developed a fool-proof plan to combat this wave of discontent, and get on a new course to change public opinion.  One of the Senior Gophers came up with the brilliantly innovative idea of issuing Liberty Coupons.  For that bit of initiative, the Gopher was given 2 free movie passes to the theater of his choice and 1 large popcorn/Coke combo…total estimated value of over 100 bucks.
The Liberty Coupons program would work like this.  Liberty Coupons could be granted by any member of government to individuals who have displayed superior loyalty, taken brave action to help crush any opposition, or just suck-up well.  These coupons could be sold or traded, but each coupon would allow the bearer the privilege of garnering one small act of freedom.  Multiple coupons could be used for larger acts of freedom.  All coupon redemption offers would be illustrated in a full-color catalog, produced by the new Department of People Control.
For example, one Liberty Coupon could allow the bearer to procure a simple act of freedom, such as being entitled to read a Sean Hannity book, buy a Rock&roll CD, or be allowed to cut down a tree on his/her property.  Trading in 5 Liberty Coupons could allow you to visit the Doctor of your choice, or perhaps be able to purchase a large order of fries at a designated McDonalds or Burger King.  A five-spot could allow a citizen the right to buy a 6-pack of Old Milwaukee beer at a non-governmental beverage distributor.  Or, it could allow you to paint a wall in your home a color other than the normally prescribed "Autumn Wheat".
And it would go up from there.  Ten coupons, for example, could permit you to lock your home doors.  Twenty coupons would allow you to purchase a non-hybrid vehicle…and for 2 more coupons, you could actually be allowed to buy a diesel.  Mind you, the coupons don't cover the price of the merchandise you would have to pay…only the right to be able to make the purchase….consumers would still have to fork over the dough, in addition to the Coupon. 
Thirty coupons would permit you to send your children to a non-ghetto school…or allow you to accept a job in the rapidly dwindling private sector…that is, if there are still any jobs available.
The Administration likes the program's premise, in that it is modeled after the successful Rewards programs that people now love so much.  And the Liberty Coupon program will encourage the behavior of "saving up" for those freedoms that people cherish the most, rather than just wasting Liberty Coupons on small trivial freedoms that don't really matter that much to them.  All in all, the staff seems enthusiastic about finding this common ground with the Freedom Seekers contingent out there, and plan to get this program rolling on a fast-track by July.
Disclaimer:  all stories in Bizarreville are fiction, even the ones that seem quite real.
Tags: democrats, left wing, liberty, loss of freedom, marxists, obama, people control, political satire, socialists, tea party, whackos
Posted in Commies, Crazies and creepskies