Posts Tagged 'congress spending'
Leaders in the Bizarreville Congress got very perturbed this week when they learned that Congress' approval rating reached a new low.  But they were even more concerned with the numbers:  a zero percent approval rating for the first time in history.  Naturally, they responded that there must be an error in the polling procedure…that there is no way that a zero was feasible, at least one person should have said they liked and approved of Congress.
"We're confident in our reported numbers," Ogden Murkrud of the Murkrud Poll responded.  "In fact, we expanded the number of people surveyed from our usual sample of 2 thousand surveyees to 237 thousand people.  But we were unable to find one single person who thought Congress was worth a crap.  One fellow, when asked whether he felt Congress was doing 'adequate', initially responded 'Yes'.  However, turns out the respondent thought he had been asked if Congress 'out to quit'.  He apologized, and said he needed to change the batteries in his hearing aid."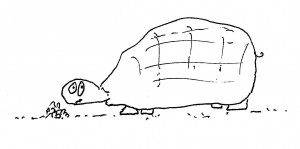 Surveyed citizens seemed most upset about the so-called "Nothing from nothing equals nothing" debt/spending deal reached last week, which helped trigger a mega-drop in the stock market.  A group of 3rd graders from Stankville Elementary were asked if they could help the President and Congress figure out how to solve the nation's increasing money problem.  "Stop spending so much," one student replied.  "When my pet turtle Freddie started bloating up like an overblown balloon, I thought he was gonna die, with turtle guts spewed all over my bedroom.  I was really scared cuz I really like Freddie, even though he kinda stinks.  But so, I decided to stop feeding him so much turtle food every day, and now he's back to normal.  My mom just said to keep him on a diet…whatever that is.  Anyway, he's unbloated now.  And now he doesn't even stink so bad."
Congress is now in recess, and going back to their homes to figure out how to re-boost their approval ratings.  One congressman said he's going to schedule some free bingo tournaments with his constituents.  He said he accumulated some great giveaways, procured with some extra earmark funds he had stashed away. "Freebies always put people in better moods," he said.  "I think I'll be back up in the 10 to 12% approval rating by September."
Disclaimer:  all stories in Bizarreville are fiction, but you knew that, didn't you?
More congresspeople on both sides of the aisle are now belatedly recognizing that the Debt can stand no more raising.  This realization has apparently come after these lunks and lunk staffs had been barraged with phone calls from their 4th and 5th grade Math teachers, who scolded them on their failure to understand basic arithmetic…and in particular their seemingly total obliviousness to the chapter on "Subtraction".  The scoldings have appeared to have hit home, as many voted down the recent attempt to raise the debt ceiling.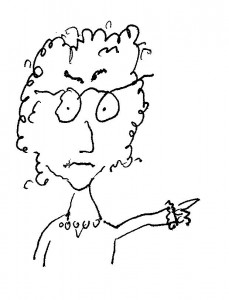 Mrs. Marge Flumpzit, who was the elementary school teacher of Harry Reid, was an outspoken member of this band of teachers.  Flumzit, who is now 97 years old, still remembers the precocious Reid who was always throwing spitballs at the girls in class while she was trying to explain how subtraction worked…and how it was quite different from addition.  Flumpzit was able, in those days, to be able to whack Reid with a yardstick or fire a piece of chalk at his ear if he was not paying full attention.  But, she says, it did no good as Reid would resume his spitball fettish moments later.  "The bad thing," she lamented, "was that I'd have to go clean up those disgusting, slimy balls of snotty goo after class.  Some of them would literally stick to the wall.  Yeah, I don't think that kid retained one lousy ounce of subtraction knowledge."
Experts in the field of Mathematics Education have explained that this phenomenon is not that uncommon, particularly among dimwits.  Jonathan Wanker, the Executive Director of the Mathnerd Institute, says that kids with lightly loaded melons often struggle with the difficult concepts of subtraction and division, frequently turning to a variety of distractions, which may include daydreaming, writing little notes to classmates, or wetting their pants, as defensive measures.
The sad thing, Wanker states, is that all too frequently these subtraction-ignoramuses tend to find careers in Politics.  Their lack of fluency with Subtraction can, and has, become a real danger to the unsuspecting public, who often have trouble understanding how a congress person or senator can really be that dumb.  The public just does not realize, according to Wanker, that some people are not wired to process this "higher level" math, no matter how much tutoring or yardstick whacking they receive.
Wanker sas that, eventually, citizens may require that politicians take a simple arithmetic test, including plenty of subtraction problems, before being allowed to register as a candidate.  The test may have subtraction problems that are 5, 6, or maybe even 9 digits long to really test the skill level and competency.  This, he says, may not screen out all the numbskulls, but it could certainly make a dent.
Disclaimer:  all stories in Bizarreville are fiction, even the ones that sound so real.
The battle continues in Capitol Valley on what to do about The Debt.  The Debt, as most people know, is an old ramshackle building next door to the Bizarreville Capitol where all the IOU's are kept that have stemmed from the rampant mindless government borrowings to fund its wild and crazy spending spree over many years.
In early times, the IOU's were neatly filed in beautiful oak file cabinets, alphabetized by lender, with an army of secretaries doing the filing in crisp manila folders.  As the IOU rate accelerated, the oak cabinets became jammed full, and they had to buy some cheap metal cabinets…later ratcheting down to cardboard cabinets.  But, after a while, the incoming IOU's were just too rapid-fire, so they went with plain old brown boxes.  Soon after, when the job of "secretary" was eliminated by Bizarreville courts as being "too demeaning to the soul…a reprehensible exploitation of women…an excuse to have glorified waitresses shlepping coffee for a bunch of lazy suits," the organized filing simply ceased.  IOU's were just dollied into rooms, closets, and hallways, and dumped helter skelter.  Papers were strewn everywhere.
When all the available space was packed as tight as a colon on a no-fiber diet, the Elders determined that the only solution was to raise The Debt ceiling, and add another flat of rooms.  That would free up some space in lower floors, so they said, in case anyone wanted to navigate through the mess to pay off a few of the IOU's.  Unfortunately, though, before the next floor was even roughed-in, it began to fill with new truckloads of IOU paperwork, promissory notes being shuttled in continuously.  The Bizarreville fathers hurriedly raised the ceiling again, and started construction of another floor.  The lack of time for architectural planning or construction oversight caused a few, mostly cosmetic, issues to develop which were corrected with careful gerryrigging.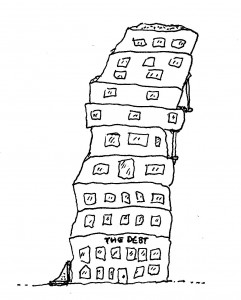 The Spenders were happy with the solution of adding more and more floors.  Sure, the building was ugly, but it was functional, and really that's all that mattered.  The IOU's were in a place that was mostly dry except in torrential rainstorms.  And without secretaries, there was none of the constant whining and bellyaching about crowded conditions, as there had been previously.  Curtains were purchased for the windows, drawn closed, so that no one would have to see the mess inside.
The Ceiling raising solution was one that everyone could be happy about…that is, until the Bizarreville Building Engineer finally insisted on an inspection.  In his report, he pointed out that The Debt was an unstable, overloaded fire hazard that would likely crash to the ground within 12 months.  Naturally, he was fired the next day for his delusional scare tactics, irresponsible analytics, and offensive personal hygiene.
In his aftermath, however, the debate has continued to resound about the quality of the building and structural soundness.  Legislators point out that The Debt has become a tourist attraction, especially by foreign visitors who marvel and love to take photographs of it.  "The Debt has so much more character than that silly leaning tower in Pisa," one world traveler commented.  "No comparison.  This photo is going up in my Rec Room next to a couple Andy Warhol soup cans."
Rumors have started that maybe Congress would stop their manic hyper-spending, negating the need to raise The Debt ceiling anymore.  "Hope not," another shutterbug answered.  "At least not until they add one or two more floors to this wobbly piece of crap."
Disclaimer:  all stories in Bizarreville are fiction, even the ones you would like to be true.
Yes, Friends…welcome to the Amazing Race to November, where the Bizarreville Congress will be challenged to ascertain how much worthless left-wing nutcase spending they can possibly do in just over 10 months.  The contestants know they're getting swiftly booted out of their jobs in November, so by golly, they've got to work fast, damn fast, to get it done while there's still no one who can effectively hold them accountable or slow their pace.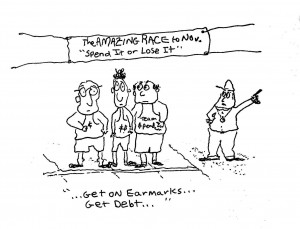 Remember, in the Amazing Race to November game, contestants get extra "style" point for ramming-through projects that are especially laughable in the eyes of our judges.  Research projects into the behaviors of stupid friggin' animals, construction projects with no tangible benefits whatsoever, and anything that has the words "space" and "laboratory" in it are always solid qualifiers.  But judges will be looking for new deeper levels of creativity, not only in the project synopsis itself, but also in the ridiculousness of the supporting rationale.  Contestants are all reminded that they must make the judges laugh, real belly-rollers are certain to garner these bonus points.
Congress people are currently very busy with their bloated staffs trying to scrape up wasteage ideas, pulling records/notes that go back 30-40 years for shot-down projects and lame-brain funding requests that now have this once-in-a-lifetime shot at slipping into the 2010 frenzy.  One item, for example, is to completely restore the disco records blown up at the Sox game in the late 1970's…a troubled project for decades, but now looking like a winner.
Congress is getting help from the Network of Inept Non-profit Non-functionals (NINN), the clearinghouse for coordinating/administering handouts to agencies too inept to make it on their own.  NINN always has a long running list of creepy, weepy adhocs who can turn on a dime to spend millions when extra cash is available.  A subsidiary organization of NINN, called Professors Too Inept to Teach (PTIT) also has a list of "shovel ready" university research projects to keep its research professors busy spinning wheels on inconsequentialness…and naturally keep them out of the classrooms where they can do real damage.  Suffice it to say, there are infinite places to whiz away money.
The Winner of the Amazing Race to November will be the Congress person who amasses the highest wasteful spending dollar count, plus the biggest earmark slush fund, combined with stupidity laugh points…a net total that should most certainly guarantee him/her a landslide loss in November for such blatant irresponsibility.  As a consolation, the winner will receive a lifetime guest spot on the interminable PBS pledge drives, an honorary pubah designation with the Acorn organization, and a commemorative set of gold-plated "McGovern for President" campaign buttons.  He/she will also get some kind of road, alley, or at least a ditch named after him/her somewhere in Bizarreville.
Disclaimer:  all stories in Bizarreville are pure fiction, even the ones that sound like they could be real or seem like they should be real.
Bizarreville senators have just taken a solemn pledge to stop smoking.  Turns out, most of the senators are smokers.  And the liberal senators are the worst, smoking continuously…lighting off the next one from the butt of the last one.  But now they've decided to all take the pledge to stop.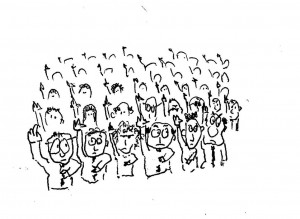 It has always been strange to see these esteemed people conducting themselves in a manner that they know is so detrimental to their future health.  They are all extremely smart people, college educated, most with graduate degrees who fully understand the consequences of near-term pleasure vs. long-term jeopardy.  Yet, for whatever reason, probably aided/abetted by peer pressure from their smoke-aholic colleagues, they continue the bad practice.  Clearly, it has been a strong addiction, a spiral they have been unable to pull out of.
And the Senate rules have not helped them.  Years ago, rules permitted smoking only 10 cigarettes in the Chambers per day.  Then, under pressure, they raised it to 12, then 15, then a pack/day.  They held it at one pack for a few years, driven by the few non-smokers who had trouble breathing the stench, and who tried to interject just a little discipline in these knuckleheads.  But finally, the majority won out, and they raised the ceiling to 1.5 packs, then 2 packs, and recently to 2.5 packs.  Some cynics wonder why they don't just make the ceiling "unlimited" rather than going through the stupid charade every so often.  "No, we really, really want to try to discipline ourselves," say Senate leaders as they draft up new rules to go to 2.7 packs.
New incoming freshman senators normally are non-smokers when they arrive.  But within 3 months, they become addicted via inhaling the intense secondary smoke cloud…and seem to quickly lose their sensibility.  A few holdouts have remained non-smokers, and have come to the Chambers donning gas masks to make a point.  Naturally, they just get laughed at.
But now…pressured by the Public who has already given this Class of senators the lowest favorability rating in world history…just slightly above the inmates at Gitmo, and slightly below Kim Jong Il…now they have enacted this Pledge to stop smoking.  This has been a headline story nationwide, but the press release was carefully crafted to say (in the smallest font possible) that there would be some "special circumstances" when smoking would be permitted, "…at times when the Body is under considerable tension and stress…"
Official spokespeople have been vague when asked about specific examples that fit under the Special Circumstance clause.  But inside sources say that anytime anyone is at the podium speaking or anytime the Body is voting would be 2 examples that fit the tension/stress criteria.
Pollsters are early-estimating that this pseudo-pledge could take them below the Gitmo boys.
Disclaimer:  All stories in Bizarreville are purely fictional, even the ones that sound like they are real.