Posts Tagged 'biden'
Party leaders are scurrying, scrambling to determine what to do about the Gaffemaster.  At first, they tried to figure out how to shut the idiot up.  His continuous spew of knucklehead remarks, inappropriate slurs, and bumble-rooskies were seen as embarassing to the entire leadership team, forcing spokesman after spokesman to have to appear on morning TV shows to do damage control.  As time went on, however, it became clear that most citizens did not care.  They saw him as a genuine bozo, fully expecting to see him acting stupid, and simply shrugged it off.  "What's your point?" became the attitude.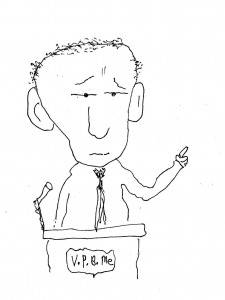 More recently, leaders discovered that his endless series of flubs were actually quite entertaining to a large segment of likely voter-types.  These citizens saw his goofy speeches as a pseudo stand-up comedy routine, chock full of chuckles in an otherwise dull, painfully boring campaign season.  His straight-face, dry presentation style made his one-liners all the more hilarious.  Like a snotty version of yogi-isms, his quips and quakes became crowd favorites.  His recent "put y'all back in chains" slur to a racially-mixed audience drew huge laughs…so many laughs that the VP had to suspend the speech for 10 minutes to give him time to change his wetted pants.  When he returned, he quipped that he hadn't realized the team's "Hope and change" campaign theme included underwear…drawing more laughs, and almost causing a change reprise.
Even the infamous gaffe where he asked a man in a wheelchair to stand up and take a bow which seemed humiliating at the time, now is touted as comic genius by the party.  "The guy is remarkable," a party spokesman said, laughing as he watched the tape of the wheelchair gaffe.  "Look at that stone face…not a flinch…wow!"
Party officials now see the VP's gaffes as an opportunity rather than a threat.  They have given him a small staff of gaffe writers to devise some fresh new gag material for upcoming events.  Advisors are working with the Gaffemaster to help with his dry delivery style, so that he continues to look like a bumbling birdbrain, rather than a polished comic…part of the "charm" that is critically important to retain for a few more months.  Ironically, even his staunchest opponents are starting to laugh at the little screw-ups in private, feigning outrage in public.  One unidentified opposing party member called his latest series of gaffes "the most pathetic, disgraceful performance by a Vice President since Aaron Burr," then busted out in a spit take.
Disclaimer:  all stories in Bizarreville are fiction, although some are not so far from the truth.
Nancy Pelosi…come on down!!  You are the next contestant on the Price is Fright.  Whooop, whooop, whooop.  Okay contestants, here we go.  Johnny, what's the next item up for bid?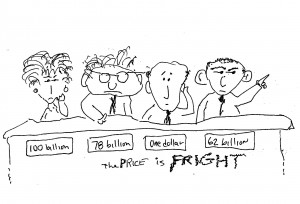 Bob, the next item is….a package of 100 fresh new jobs!!!!  These are not just any jobs.  They are jobs for people with no skill whatsoever.  From Slob Mart, your source for thumb-twiddling that keeps people busy…but not too busy.  Nancy?
I'll bid $100 billion.
Wow, Nancy, that's about $ 1 million per worker.  Remember this is just wheel-spinning type work, not brain surgery.  Harry?
Yeah, that's way too high for jobs that are basically make-work jobs.  Come on, give me a break.  I'll say $78 billion.
Okay, now we're getting serious.  Joe….you're next…
I'll bid one dollar.
One dollar for 100 jobs??  Are you just plain nuts, are you smoking dope, are you a babbling nincompoo…..ooops, never mind.  Okay, one dollar.  Barack?
It's not as simple as just bidding for jobs at some arbitrary price.  It's about the impact this type of job creation will do to the overall national economy.  These 100 jobs will be a catalyst to spark job creation on a broad scale, across each and every industry, from autos to computer information systems, from high-end consulting to low-end toilet cleaning.  And how do you measure the value of creating these jobs?  You can't ….
Barack, Barack….please, man.  Just shut up.  Shut your cake hole, and give me a freaking bid already.
$62 billion.  There….you happy now?  You dirty, good-for-nothing mother mrrrrr,  mrrrrrr, mrrrrr, mrrrrr….
Thank you.  Retail price….$62 billion!!  Barack, you got the number precisely on the dot.  How did you ever do that?
It's easy, Bob.  He's the one who makes up the friggin' numbers.  He pulls the number out of thin air, and pooof, it's a done deal.  If he would have said $200 billion, the answer you would have shouted would have been $200 billion.  Are you that naive?
Harry, it sounds like there is a little resentment building there in your craw.  Am I right?  A little jealousy going on between you and the big guy?  Are you getting your little snoot in a wrinkle?
No, Bob.  I don't care if he always wins.  I mean we're all winners when we dump $62 billion to create jobs in the important "unskilled" element of the labor force…the guys who can't walk and chew gum…the poor fellows who add zero value to our national productivity.  We know that if the government doesn't do it, no one will.  Certainly the private sector won't do its civic duty by offering these poor deadbeat souls a job.  No, Bob, I'm happy and proud to be playing the game, and frankly can't wait for the next item up for bid.
(Buzzzzzz).  I'm sorry, but we're out of time for today.  But please join us tomorrow, when our contestants will be bidding on a research study to evaluate the consistency of hedgehog bowel movements.  Until then,  good night friends.
Disclaimer:  all stories in Bizarreville are fiction, even game shows
Forward-thinking speechwriters in Washington are drafting up a speech to be delivered by the President in the near future with a working title "Return of the Malaise".  It will borrow vignettes and excerpts from that classic speech by President Malaise in the late 1970's that seemed to capture the hearts of manic depressives, Wall Street bears, dope-smoking left wing marxists, Cubs fans, and the whole whacko subculture across the land.  Back then, the Malaise Master-in-Chief just seemed to have his thumb on the pulse of the nation.  And then he followed it up with profound leadership that brought us hyper-inflation, skyrocketing interest rates, hostages captured in Iran, and a bumbling rescue attempt featuring helicopters crashing into each other.  Few other leaders in our history have been able to ultimately bring the nation together quite like he did.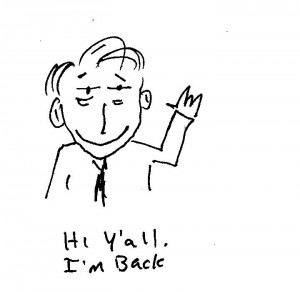 Writers plan to develop an infomercial-type speech using exerpts from Return of the Jedi and other Star Wars clips and storylines.  They want to use the scene where Luke Skywalker gets his hand cut off by Darth Vader, with a subliminal message that "these upcoming new taxes will feel like Washington is cutting off your hand, but we can sew-on a bionic hand, or at least a Hook temporarily to return some functionality to you.  And cover it in our new Health Care plan to boot!"  Writers also want to zero-in on the Darth Vader story:  good guy, turns very bad when he gets sucked into the Dark Side, then turns good at the very end of his life when he finally realizes what a numbskull he was.
The President believes that the best way to boost confidence is to start by driving down confidence as low as it will go…again, a page out of the Carter playbook.  He has said we're off to a good start with the 10 percent unemployment, nationalizing banks and autos, the burgeoning National Debt, and continuing to have government focus on stuff unimportant to the public.  But he believes there is more, much more that can and must be done to get consumer confidence at an all-time low…so that any improvement will seem like a major boost.  He cites as example the recent decrease in the increase in unemployment claims.  "Harry Reid and the national media went into a frenzy about that!"
Writers are hesitant about using the term "Malaise" again, and are searching Thesauruses to discover another word that will be as memorable.  The Vice President suggested using the term "Cluster F*!#", but the President allegedly told him, "Shut up, shut up, will you please just shut up….geez."
Disclaimer:  all stories in Bizarreville are fiction, even the ones that sound so real.