Posts Tagged 'auto industry problems'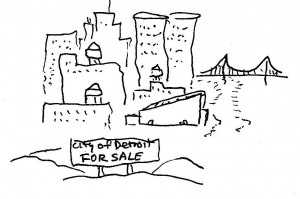 In a shocking, unprecedented move, the City of Detroit announced its plans to move to China.  This move comes on the heels of Honda's announcement of plans to build a new car factory in Wuhan, and similar Chinese capacity expansion announcements by BMW, Volkswagen, and Nissan.
"There are a number of details that will need to be worked out," said former NBA player and current Detroit mayor Dave Bing.  "Starting with where to locate the city.  We're looking for something near a big lake system fed by plenty of rivers that have adequate sewage handling capacity.  Would also prefer a location with lousy weather…you know, snow, sleet, freezing rain, gray skies…at least 11 months of the year so our citizens can acclimate quickly."
Detroit has been under severe pressure recently with closures of factories, layoffs by the Auto companies, and the pathetic performance of the University of Michigan football team.  This has created a sense of acute pessimism that pervades the town.  But this attitude will fit well in China, where the people are already moapy, depressed, and discouraged.  And Detroiters have become so used to entitlements and free handouts that the switch to Communism should be relatively seamless, and should bring up their spirits.
Michigan governor Jennifer Granholm expressed her disappointment in the move, but said she understands the reasons and will work with the Chinese on the transition.  When asked what will replace Detroit once it vacates, she said, "Probably a landfill."
Detroit hopes to regain the moniker of the world's Motor City, perhaps by annexing the land that the Chinese auto plants occupy.  Chinese officials commented back on this statement, but the translation was difficult….translators said that it it was a very ancient obscenity that involves your sisters, donkeys, and various viscous fluids.
Chinese authorities say they may rename Detroit after the move to a less French-sounding name.  They have suggested the name Fugwad, which they claim means "natural process" or "beautiful flow" in Chinese.  Detroiters say they cannot find that word in any Chinese dictionary, but may accept the change to appease their new hosts.
The Chinese have said that they will take the Tigers, but will not allow Detroit to bring the Lions over.  "Maybe you can give them to the North Koreans," said a Chinese sports minister, laughing hysterically.
Disclaimer:  All stories in Bizarreville are fictional.  Even the ones that sound like they could be real.