Tales of Obamaland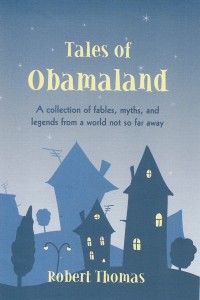 A new book, Tales of Obamaland by Robert Thomas has just been released.  It features the kind of zany satire, outrageous hijinx, and whimsical storytelling that you have grown to love with Bizarreville.  Tales of Obamaland takes you on a journey with  21 satirical fables and parables, all set to rhyme in a Dr. Seuss-esque style to add a bit of charm to the stories.  In Obamaland you will find an assortment of  bizarre characters and creatures, some of which bear striking similarities to the lovable misfits of today's real world.  Who woulda guessed?
Tales of Obamaland is a delightful diversion from the typical hard-nose, in-your-face discussion of political and current events…the blood pressure-inducing diatribes, the teeth-clenching monologues, the ongoing gotcha battles.  You were probably getting just about sick and tired of that whole blather anyway, weren't you?  Time to relax, poke a little fun, have a few laughs…take it all just a smidge less seriously.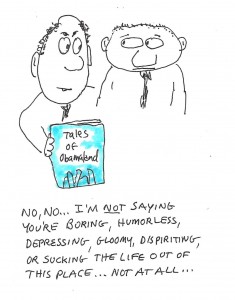 Pick up a copy of Tales of Obamaland for yourself and friends.  Send a copy to a non-friend, jerk, or enemy just to tick him off.  Just click on one of the 4 logo- links below and soon you'll be able to sit back, pour a tall glass of cheap wine, and enjoy some zany fables.  It's fun, it's different, it's time for a change that you really CAN believe in.  It's time for some Tales.              
Available at amazon.com, BooksAMillion.com, BarnesAndNoble (bn.com), and Powells.com, with links to Tales of Obamaland below.  It's a great gift idea.
Click on one of these fine on-line stores below, and order your copy of Tales of Obamaland