BIZARREVILLE CAMPFIRE STORIES (new)
Bizarreville Campfire Stories is an outrageous collection of 36 humorous, satirical short stories designed to poke fun at all kinds of craziness in the world…political, social, business, you name it, this book covers it.  The book is laced with the familiar crazy illustrations you have loved on the web site that help bring a certain breadth to each story.  It is a perfect gift for a friend or family member for Christmas, birthday, or cheering-up occasion to help show a light side to the issues of our day.  Grab a copy today.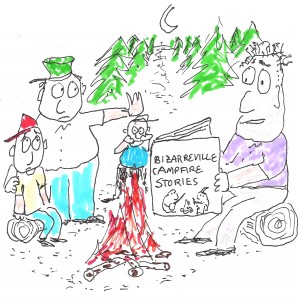 Bizarreville Campfire Stories:  Here are the stories:
1.
Grabbing Karl
:  Leader of new socialist movement goes back in time to grab Karl Marx to inspire troops 2.
Nowhere
:  Town of Nowhere tries to get Congress to build a new bridge, and gets pushback 3.
Diary of a Recovering Tax-and-Spendaholic
: Sad story of politician trying to deal with his affliction 4.
The Black Lagoon:
Environmental agency nimrods try to grab water samples, but discover perplexing problem 5.
The Good Liar:
Lying mayor tries to pass 2-cent sales tax to build new stadium with hope to attract a team 6.
War Inc:
New company convinces countries to outsource their war business, gets ambushed by war discounter 7.
The Donkey in Gazelle Clothing
: Mimp the donkey gets confused trying to be something he isn't 8.
Greespoon goes Bankrupt
: Liberal government tells industry to take the stink out of cheese, goes bankrupt 9.
End of Customer Service
: Last company with Customer Service function gets ingenious marketing strategy 10.
Bizarreville Bank Derivatives:
A story that helps illustrate the 2008 financial collapse 11.
The Unlevel Playing Field
: A college football team solves its poor home field record 12.
Feldorf:
Joe Plumber type gets elected to congress and tries to clean up the septic tank there 13.
Average:
A below average-skill guy becomes CEO of his company, then struggles with his shortcomings 14.
Occupy Shmall Street:
Protest group gathers but keeps forgetting what they're protesting about 15.
A Dump too big to Fail:
City gives all its waste-processing functions to a not-so-hot company 16.
The Branedrane Canyon Descent:
Climber learns lessons on country's path to 3rd world wage rates 17.
Stopping Ewax nukes:
World fear erupts when crazy little country gets nuclear weapons 18.
The Freeload Tree:
Town of Freeload discovers tree that grows perfect 20-dollar bills 19.
The Warmed-over hypocrite:
Global warming advocate struggles as his fearful stories unravel 20.
Invasion of the little talking heads:
Squeaky TV pundits create a health epidemic 21.
The Swamp Bear and the Magic Frog:
Pond is invaded by smelly bear, and fights back 22.
Ode to a Road:
A poem about what happens to a road when they build the bypass 23.
Mungland Acres Luxury Pet Resort:
Pet resort comes under fire when chef gets too creative 24.
The Olde days of Oil Drilling:
Old timers remember time before oil drilling became illegal 25.
Sheila goes to charm school:
Grouchy congresswoman gets a charm makeover 26.
Raising the Debt Ceiling:
Crusty old building keeps expanding by raising its roof 27.
War on Obesity:
President declares war, and the ding-dongs start flying 28.
Revenge of Ponzi:
Fred Ponzi gets tired of jokes about his name, and turns the tables 29.
The F-word I-words:
Politically corrected story of a guy named D-word in search of wisdom 30.
Letter from Shnez:
Redneck guy tries to get lawyer to sue tobacco companies 31.
The Fork:
Whimsical story of traveler struggling to find the right path 32.
Tarnation:
Group travels to town of Tarnation, where all lost articles migrate 33.
Lame Duck:
Lame duck President struggles with the biggest decision of his expiring term 34.
The Flembomatic:
Inventor designs ingenious device then faces patent challenge 35.
Gun Control in Bizarreville Heights:
City cracks down on guns after liquor bottle shooting 36.
Recycling Garbage Police:
City adopts tough accountability program on recycling
Now you've got to admit, there are some stories up there that sound too good to be missed.  Hit the Go button, and get your copy of Bizarreville Campfire Stories today, and get ready for some laughs!