Stimulus receivers refuse to say how they're misusing funds
The Bizarreville Stimulus Funding Disbursement Dept announced that there are 4300 agencies/companies who had received economic stimulus handouts, but failed to fill out the proper reports on what they are actually doing with the money.  While it only accounts for $25 to 30 billion of the total, it's still a significant problem, according to the department.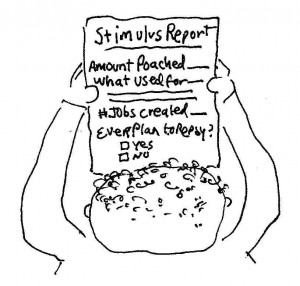 Part of the problem, admits the department, was known in advance.  "Many billions were given to groups of illiterate ignoramuses and/or people who can barely speak the English language, let alone write it," said a spokesman.  "How could we possibly expect these ignorant people to fill out reports?"  When it was suggested that the reports are extremely simple, easy enough for a D-student 2nd grader to fill out, the spokesman responded, "What's your point?"
Some other firms simply said that they do not have time or resources to complete the reports.  They claim they are too busy spending the money to be able to sit someone down to fill out paperwork.  But they have come up with a solution:  earmark some extra stimulus funds just to fill out reports.  "One bil…two at most…should cover it,"  reported a stimulee.  "Maybe three, if we hire a staff of graphic artists to make the reports visually appealing."
Some other firms claimed they were unable to get logged-onto the website to get the report template.  But department computer geeks cyber-investigated that story, reporting that they are unmitigated liars.  The geeks can show electronic proof that, yes, they did log-in, and yes, they did download the report templates.  The department is contemplating cutting off funding to these liars, but as of yet have found no legal grounds to halt the gravy train.  They suspect that funds are being totally misused, but can find no definition distinguishing "good use" from "misuse" in the bill.
Tags: political humor, satire, satire site, stimulus, stimulus bill, waste
This entry was posted on Tuesday, December 15th, 2009 at 2:49 pm and is filed under Bail-out stimulations. You can follow any responses to this entry through the RSS 2.0 feed. You can leave a response, or trackback from your own site.