Tiger's Local Fire Chief is torched-off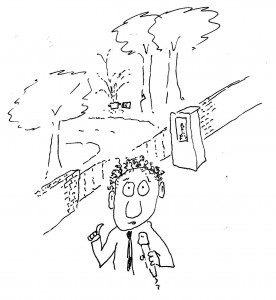 Good evening.  This is Marvin Shankst, Bizarreville TV13 reporter…on the scene at Tiger's home.  We've been trying to get an interview with Tiger all afternoon, but he has turned us down every time…telling me to just settle down and get some Decaf, man.  Well, I told him "Man, I don't drink decaf or coffee of any kind…maybe a pumpkin spice latte once in a while, but that's it."  I guess I may have seemed a little hyper…who knows?
I tried to ask him about the tree and the fire hydrant that, as you can see from here, are damaged…but he gave no comment.  I went to the local Fire Chief and asked him about the fire hydrant, and he seemed pretty rattled.  Here's my interview:
"These hydrants are our lifeblood in the Station.  We lose one, we put each and every home in that neighborhood at risk.  You can't just take this kind of thing lightly.  It's serious, real serious.  We need someone….maybe a non-golfer or someone who doesn't park themself in front of a freaking TV watching boring golf for 6 hours on a Sunday…someone to get to the bottom of this thing.  If you don't, you'll have all these rich  as*!&+$  running willy-nilly over hydrants, without any regard to the impact on us firefighters.  These guys just don't give a  s$!&  about the safety of others.  They just sit in their Drawing rooms, and do whatever you do in a drawing room…draw, I guess.  Probably just draw all day….make little doodles that they probably sell at some "modern" art gallery:  Tiger's Doodles…a thousand bucks.  Includes a frame.  Will personally sign it for another thousand.  What a life…golf and doodles…pfffft.
Tags: fire hydrant, humor, satire, tiger woods
This entry was posted on Wednesday, December 2nd, 2009 at 1:48 pm and is filed under Street sweepings. You can follow any responses to this entry through the RSS 2.0 feed. You can leave a response, or trackback from your own site.