Top Execs fuming over pay restrictions, file grievance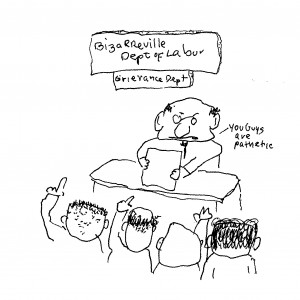 Top Execs of bailed-out firms have filed a grievance with the Bizarreville Dept of Labor over recent government-induced CEO pay cuts.  A second grievance was filed over bonus cuts, and a third grievance over perq cuts.
The final straw was reached when the CEO of Flummox Inc. was told he had to get rid of his company-paid chauffeur and associated stretch-Hummer limousine.  "Now how am I supposed to get to work?  Walk?  Hitchhike??  Ride the bus???"
He has been on a frustration rage for months ever since the Federal Perq Czar stormed the Flummox main office, and padlocked the executive restroom.  The CEO, Mr. Smellman, was forced to walk down a fairly long hallway, down to the regular employee restroom, and go next to the common employees of the firm.  Reportedly Smellman went ahead and used the Handicap stall for privacy and extra space, forcing Mervin Shelfer – a true handicapped person –  to have to wait about 10 minutes, holding it in.  Shelfer exclaimed, "Let him have his john back, for crying out loud."
Other Bizarreville execs have been similarly throttled, and are mad as hell.  "What's next…our personal stationary and private secretaries?  This is ridiculous…next thing you know, they'll start shutting down our regional conference centers in the Poconos and the Ozarks.  You know, those areas are incredibly over-populated with deer, birds, and fish…has anybody thought of that?  Has anybody thought about the unintended consequences when you start shutting lodges…I mean, conference centers down?  Does anybody care about those poor animals?  I can answer you that….NO."
Another exec chimed in:  "How are we supposed to entertain our customers now?  I just heard they're not even allowing us to have our Customer Appreciation Golf Fests anymore.  Zip, gone.  What's next…cancelling our 3-day customer sales events at Tahoe?  C'mon, give me a break.  Who's going to answer the phone when those customers start screaming 'where's my Vegas trip'…the Perq Czar?  I don't think so."
The Dept of Labor informed the execs that, unfortunately, there is actually no legal process for them to file their grievances, nor get any kind of restitution.  The Dept did agree to accept the grievance letters, and put them in a file under Miscellaneous/Other.
Tags: bailouts, executive bonuses, pay czar, political humor, satire
This entry was posted on Monday, November 2nd, 2009 at 7:59 pm and is filed under Bail-out stimulations, Corporate shnooks. You can follow any responses to this entry through the RSS 2.0 feed. You can leave a response, or trackback from your own site.