Has anybody seen Harry?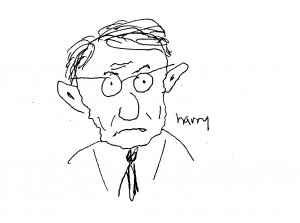 NOTICE:
Has anyone seen my grampaw Harry?  He turned up lost a while ago, after he ran away from home.  We did not feed him very well, so that's why he may have run away.  He smells pretty bad, especially when his fur gets wet, and probably desperately needs a bath.  He doesn't lift his leg, so he ends up going on himself each time.  We used to think he was pretty harmless, but lately he's been known to bite.  If he starts snarling and barking, better back off before he starts chewing on you.  He's a grizzly, ornery old goat, but we still love him and want him back.  He probably has identification on him somewhere.  If you see him, please return him before he hurts innocent people and/or does more damage.  Thank you.
The Nevada family
Tags: congress, harry reid, political humor, sarcasm, satire, senator
This entry was posted on Thursday, November 5th, 2009 at 4:26 pm and is filed under Congrass, Leadnerds Spinyerds. You can follow any responses to this entry through the RSS 2.0 feed. You can leave a response, or trackback from your own site.