Pandemic of hairy reed syndrome causing widespread brain damage
The Bizarreville Center for Disease Control reports that Hairy Reed syndrome is quickly reaching pandemic levels.  All medical offices are on full alert.  Of particular concern is the number of advanced cases where the thatches of hair follicle growth in throats/sinuses blocks oxygen flow, ultimately starving the brain.
The wards are filling up with babbling basketcases who, sadly, are numb above the neck.  One afflicted patient was quoted saying "Glerf flerb gok gok gok kom blubb boodoo hoohoo shiff shoe kachungahunga gwax kax."  No one seems to be able to translate the nonsensical blabber, but it is believed to be streaming obscenities.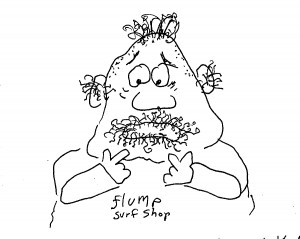 Another patient just sat in a corner and hummed in a continuous monotone drone.  Several patients danced around the room swatting at bugs and flies, and eating little spiders.  Another was trying to write his memoir, but all that was coming out were imbecilic scribbles and doodles.  A pitiful sight.
"It's sad to see what hairy reed has done to these fine folks.  That lady there, the one with the fake eyelashes, is a famous Hollywood actress.  But now, look at her…tsk, tsk…reduced to a blithering idiot.  That fellow there is a billionaire…yet all his billions could not prevent him from turning into a lame brain.  That chap there is a lawyer who wasn't too smart to begin with, but now has deteriorated to full-vegetable status.  A vegetable, for crying out loud."
The Center is continuing its efforts to develop a hairy reed vaccine or antidote, but has had limited success.  People with robust brain tissue seem to be able to resist infection, but those with softer brain tissue often succumb.  The Center hopes and prays they can stop hairy reed before it goes too far in turning all our gray matter into gray jello.
Tags: hairy reed, health care debate, hijinx, parody, political humor, satire
This entry was posted on Tuesday, October 27th, 2009 at 11:54 pm and is filed under Congrass, Health Care pffffft, Life in Bizarreville. You can follow any responses to this entry through the RSS 2.0 feed. You can leave a response, or trackback from your own site.