Which Mao are we talking about here?
Suddenly, its seem there is a nouveaux love affair with the bizarre teachings of Mao among some of the Port tack whacks.  Mao?  Killer of millions of his own people?  That Mao?  Huh?
Turns out, it was all a big mistake.  They weren't quoting that nutball Mao…they were quoting Delwood Mou, the old red-neck who lives down at Slobson Creek.  Yeah, that guy.  The one who once said:  "Showers?  Baths?  Who needs 'em?  What a waste of our precious water resource!"  Or who said, "The only thing those f#&@*!  deer understand comes from the barrel of a gun."  And…"When you put the power in people's hands…well they'll probably just fart if off."   And finally, "Class stuggle is a problem in society… because some people like to go to classes, and others like me like to ditch."  That Mou.
Mou is garnering more and more followers to his profound teachings.  He wrote a book chock full of his favorite sayings, but he forgot and left the original manuscript in a public restroom at the bus station.  Next morning:  gone.  He put out a $3 reward if anyone found it, but so far, not so good.  But with all these Libs now quoting Mou, he thinks the manuscript may surface.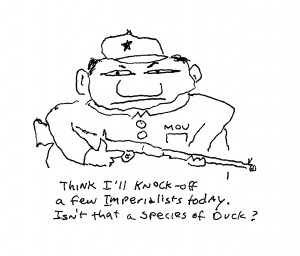 Mou got much of his material…the provocative sayings, philosophy, and pretzel logic…from his grandfather, Papa Hooma Mou, who was a deeply religious preacher and part-time bass singer in a funky country music quartet.  Critics called the elder Mou "off key".  The elder Mou would often bellyache about large corporations and capitalism.  They say that he was bitter, ever since being fired from Flummox Inc. for excessive absenteeism, sleeping on the job, general laziness, and using bad language.  "No way did I ever use bad language," Papa Hooma Mou replied.  "I was flippin' railroaded.  And that's the problem with big companies…they're out to fire all their workers…constantly on the look-out for who can we fire next?  They all need to be put in jail."
When asked if he would prefer socialism, communism, marxism, or fascism as an alternate, old Mou would answer: "Sure."
Tags: china, communism, Mao, Mao quotes, marxism, parody, political humor, satire, socialism
This entry was posted on Thursday, October 29th, 2009 at 11:34 am and is filed under Commies, Life in Bizarreville. You can follow any responses to this entry through the RSS 2.0 feed. You can leave a response, or trackback from your own site.