Money growing-on-trees technology is ready for market
Bizarreville economists have teamed with Research botanists to successfully create a new strain of mountain ash trees which produce money leaves.  That is correct…cash, moola, hard currency blooming on the tree.  This had been a long-term stealth research project for years which had struggled to achieve success.  The original goal was to encourage more tree-planting, but later the team expanded goals to include trying to discover a renewable source of currency.  But with hard work, determination, and genetic experimentation, success has arrived.
It takes about 10 years for the tree to mature before it produces full-size green twenties, and another 5 years before fifties will fruit.  But once there, each tree can produce bushel-baskets full of fresh cash, ready for immediate spending.
It's best to pick the cash before late autumn when bills start to shrivel, brown, fall off the trees, and rot.  Harvesting in September/October also times perfectly with the beginning of the frantic Christmas shopping season…so you can pick and shop, pick some more, shop some more.
According the the Bizarreville Tree Czar, plans are to plant these trees initially in the ghettos and other areas of economic distress.  This will allow underprivileged citizens to go out and pick some handfuls of fresh bills, then go buy nacho chips, TV's, underwear, athletic shoes, beer, and video games…whatever needs they truly need to fill.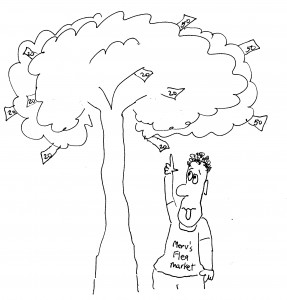 Eventually, the money trees will replace welfare and food stamps, and all the associated overhead with running these bloated bureaucracies.  The trees will also displace the new "Handouts for Anything/Everything" program, the "Deadbeats Cash Assistance" program, and the "Tax Breaks for Non-taxpayers" program, with a much more efficient way to distribute money. 
Economists remind us: "People who want to work a little harder and shake the tree or climb up on the branches can get a little more than those who just wait for the cash to fall off.  It's like an incentive program…which should sorta please ardent right-wingers who believe in rewards for hard work.  But don't worry, left-wingers, there's really plenty for everyone.  So enjoy!"
Tags: handouts, money growing on trees, political humor, sarcasm, satire, something for nothing
This entry was posted on Thursday, October 22nd, 2009 at 9:17 am and is filed under Bail-out stimulations, Commies. You can follow any responses to this entry through the RSS 2.0 feed. You can leave a response, or trackback from your own site.