The Obamanation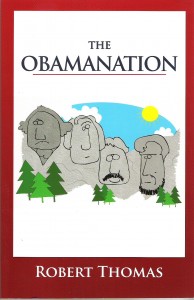 The new book has arrived, and is available at Amazon by clicking on the bizarreville button, or the bookcover on the right sidebar——–>
The Obamanation is a futurescape novel that imagines the country a few years from now led by the next generation of liberal-minded leaders who extinguish the dangerous NFL and replace it with a touch football league, who outlaw unhealthy French fries and Tootsie Rolls, find new ways to reward shirkers at the expense of workers, and drive manufacturing companies to relocate overseas…all done, of course, with appropriate doses of sarcasm, satire, and irreverence that you would expect from Bizarreville.
Get your copy now for yourself, for a friend, or an unfriend for that matter.  Hurry up before we all become Obamanons.
Tags: obama, obamanation, political satire
This entry was posted on Sunday, February 1st, 2015 at 5:22 pm and is filed under Life in Bizarreville. You can follow any responses to this entry through the RSS 2.0 feed. You can leave a response, or trackback from your own site.