Bizarreville Campfire Stories
Attention Bizarreville nation……
Our new book has now been published…Bizarreville Campfire Stories.  This is a new book of 36 fun little stories, chock full of whimsy, hyjinx, and satire, with a splash of irreverent humor thrown in for good measure.  Here is just a quick sample of the stories:
Grabbing Karl is a story about a neo-socialist movement leader who travels back in time to grab Karl Marx and bring him to the 21st century to help launch his new movement.  Karl has interesting takes on social development over the past 150 years.
Nowhere is about a little town in need of federal funding to rebuild a bridge which is ready for collapse, poking a little fun at the dynamics between town leaders and their legislator who is not too keen on the idea of yet another bridge to nowhere.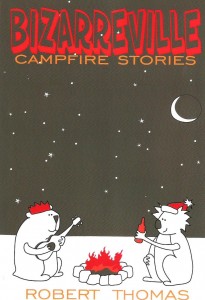 Diary of a Recovering Tax-and-Spendaholic traces the writings of a poor legislator afflicted by this debilitating disease, as he desperately tries to figure out how to get his problem under control.
The Freeload Tree is the enchanting story of an amazing tree whose leaves perfectly resemble a 20-dollar bill, and takes us through the humorous outcomes as more and more of the public becomes aware of it.
The Unlevel Playing Field is the tale of a college football programs with a poor winning history coming up with a creative solution to improve their home field advantage.
The End of Customer Service is the story of the last company in the country that offered real customer service before introducing a brand new marketing strategy that revolutionized the industry in a different sort of way.
War Inc is an interesting business success story, as a young startup company tries to convince country after country to outsource their war business to seasoned pros, but then gets unexpectedly ambushed by a war discounter.
Revenge of Ponzi is the tale of Fred Ponzi who is fed up with people making jokes about his name, and decides to turn the tables.
There are 28 more amazing, bizarre, zany stories like these.  Great gift idea.  Get a jump on holiday shopping.  You can order Bizarreville Campfire Stories today at Amazon…for a couple weeks, Amazon is offering an introductory discount on the book, so act now.  You will love it.  We will put a link to Amazon on our website soon, but for now, just go on Amazon and put the book title in the search block.
This entry was posted on Monday, August 5th, 2013 at 12:35 am and is filed under Life in Bizarreville. You can follow any responses to this entry through the RSS 2.0 feed. You can leave a response, or trackback from your own site.