Expanding the Unemployment Office creates new jobs
Bizarreville was fortunate to get its fair slice of the Economic Stimulus bill, and it will be put to good immediate use.  The Bizarreville Unemployment Compensation building was tremendously undersized and needed help.  Stimulus funds have been earmarked to expand the office capacity by a factor of 3, add 18 rows of new cattle gates, and install a high-tech number-taking system to handle the burgeoning flow of jobless applicants.
"We have jobless who are doing the carpentry work, saying it will now be much easier to collect their comp checks.  Of course, we reminded them that they aren't eligible anymore….got a pretty good laugh out of it…ha, ha, ha ha."
"But seriously…it's money well spent.  It creates jobs on one hand, and truly builds for our future on the other.  We will also be adding clerks and changing management practices to allow us to handle 4 or 5 times as many jobless as we could a few years ago.  May be able to do even better once we get things rolling.  I hate to say this, but we're hoping the Algoofco aluminum factory down the street shuts its doors so we can really test our new systems here.  My opinion:  we'll be ready."
The new number-taking system actually stamps the number on the applicant's left hand when he/she comes in the door.  No more little tickets that people whine about:  "Oh, I didn't know I had to take a ticket," or "Oh, I lost my ticket, but I'm really number 49." 
"That's been frustrating, let me tell you, but now it will be:  Let me see your dang hand, "49" or whatever your number is."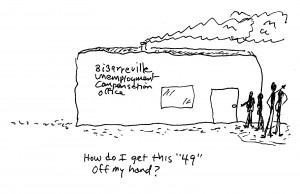 They're going to go ahead and spruce up the office restrooms while they're doing the rehab work.  There's a large "Unidentified Miscellaneous" category in the funding package, and the current toilets have those old large flush tanks.  "We'll save water and help the environment," claims the project manager.  As a finishing touch, they plan to use some leftover cattle gates to make an organized waiting line for the women's restroom.  "If there's another Stimulus bill, we may be able to add a baby-changing table in both restrooms…but we'll just have to wait and see."
Tags: earmarks, irony, jobs, political humor, satire, spending, stimulus bill, unemployment
This entry was posted on Friday, October 23rd, 2009 at 8:06 pm and is filed under Bail-out stimulations, Street sweepings. You can follow any responses to this entry through the RSS 2.0 feed. You can leave a response, or trackback from your own site.