Cut, cap, balance, toss, and mop
The Bizarreville Congress continues to argue and debate spending and taxing scenarios ad nauseum, and wily congressmen are digging deep to gin up new schemes with clever-sounding, catchy names.  The most recent one, proposed by Senator J. Ribbletart Twadd, is what he called "Cut, Cap, Balance, Toss, and Mop".  It includes an element to please everyone…or displease everyone.  No matter.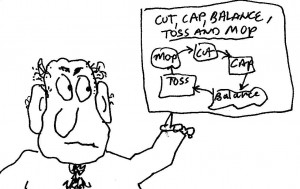 The proposition starts with a healthy, aggressive series of spending cuts.  There will naturally be the low-hanging fruit cuts of obvious goofy programs like Ant Hill Architecture Study.  But then it will get to the major cuts in all government agencies, resulting in layoffs of millions of pencil-pushing spreadsheet shufflers, thumb-twiddling admino-funk journeymen, and other office seat warmers.  Large staffs of finance clerks will be replaced by Bob from AccountTemps, and HR departments will be appropriately vaporized.  Congressmen who have enjoyed bulging staffs of administrative uber-flunkies with lavish budgets will be trimmed down to sharing Dorothy, the husky girl Friday who got lost around Tuesday.
The second element would be to Cap the Debt Ceiling.  Most legislators are in agreement on this element…the question is:  what limit?  A straw poll was taken and the ranges varied, but it seemed like consensus could be reached by calling the cap $1 quadrillion…a good round number, and certainly a cap that would allow the millions and millions of people currently sponging off the system to ween off.
Balancing the Budget is the tough one.  Congress members become brainwashed early in their terms of office that there is no need to balance, never has been a need to balance…why start now?  They are indoctrinated into the Backscratching culture, the Whats In It For Me negotiating whine, and actually take night classes on Financial Bumblenomics 101, 102, and Advanced Wasteage and Pissaways.  The thought of balancing is so abhorrent to them that it leads to the 4th element:  Toss.
Tossing of Cookies will most certainly happen as these addicted spendaholics are faced with the Balancing grim reality…the end of spending freedom as they knew it.  That internal stress/strain will pull hard on their abdominal muscles, causing massive stomach acid release, and the inevitable projectile Chow Blow.  The good news is that soon the blowing and dry heaving ends.  The bodily systems learn to adapt to the new reality of living within means.  The contracted muscles and popped-out veins begin to return to their normal state.
All that remains is the Mopping.  This could be a tough issue, given the pink-slipping of would-be moppers among the congressional flunk staff.  But that's when the Constitutional process comes in…a new Constitutional Amendment which requires senators and congresspeople to mop up their own stinky vomit.  It is quite certain that this amendment would quickly receive the 75% state passage votes, and become law of the land.
While the Cut, Cap, Balance, Toss, Mop proposal seems logical, almost a slam-dunk in its attractiveness, it still faces some uphill battles convincing the Congressional Old Fart caucus, who may struggle seeing its merits.  Stay tuned.
All stories in Bizarreville are fiction, even the sensible ones.
Tags: congress, cut cap balance, debt ceiling, irresponsible spending
This entry was posted on Sunday, July 17th, 2011 at 8:25 pm and is filed under Congrass. You can follow any responses to this entry through the RSS 2.0 feed. You can leave a response, or trackback from your own site.