The Obama-nation Recovery
Bizarreville economists have dubbed the current economic climate as the Obama-nation Recovery.  It is different than most other recoveries in that it features no jobs, a pathetic housing market in the dumpster, and uncontrolled skyrocketing federal spending on stuff totally unrelated to helping the economy.
"Hey, you can't have everything," one of the Economic Council members commented.  "At least the banks are still open…they are still open aren't they?  Yeah, they are.  I drove by one this morning.  Whew!"
Critics have called the Obama-nation Recovery a concoction of smoke, mirrors, spaghetti, and beer farts.  "Smells as bad as it looks," commented an adversary, who wished to only be known as Mr. Onionbreath.  " I think the smell receptors inside my nose have melted down."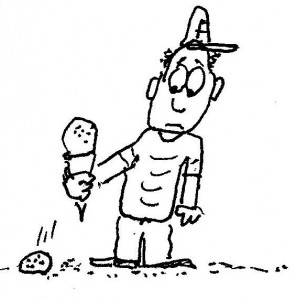 One ice cream shop owner expressed her concern about the prospect of an upcoming Double dip recession on her near-term business.  "There's no way we can start giving a free 2nd dip to customers, just cuz the President says so.  If we're forced, we'll just have to raise our single dip price…maybe even our Kiddie dip price.  And I'll assure you, that won't make the mommas and grammaws happy.  Besides…and we've seen it before…when you start putting a 2nd dip on kid's cones, it ends up on the floor making a mess.  And you-know-who gets to clean it up.  Have they thought about that?"
Members of the Economic Council have suggested that further recovery must start by incentives at the retail level.  "Stores need to start giving crap away…you know, the kind of junky, mold-encrusted merchandise that is not selling anyway.  Give it free when you buy a couch, or a swimsuit, or a set of bedsheets.  It all stimulates people buying…gets wallets out of their Captain Kangaroo pockets.  They love free stuff…don't even care if it's garbage that they would never use in 1000 years.  It's like tossed beads at Mardi Gras parades.  It's free.  It's good."
The Obama-nation Recovery is facing a stressful stretch, as the stock market has started behaving erratically, businesses have pulled back on capital investment, and congress cannot seem to quell their narcotic-like spending addiction.  Nevertheless, the President maintains his optimism in the spirit of the people, who are used to sucking it up and prepping for another pounding.
"People are resilient," an administration spokesperson said.  "You throw them into a wall, they bounce back.  You drop 80 pounds of stool on their head, they rinse it off.  You drop kick them through the goal posts, they score.  It all works out."
Disclaimer:  all stories in Bizarreville are fiction, even ones you'd swear are true.
Tags: economic recovery, obamanation, political satire
This entry was posted on Friday, July 1st, 2011 at 1:18 pm and is filed under Congrass. You can follow any responses to this entry through the RSS 2.0 feed. You can leave a response, or trackback from your own site.