Cigarette pack 'dead guy photo' law creates a spit-take reaction
The Bizarreville Congress just announced passage of a new law that will require all cigarette makers to put photos of dead guys on their packs.  Security was beefed-up during the press conference, expecting angry protests and disorderly behavior from various smoking advocate groups.
Quite the contrary.  Smoking advocates applauded the move, stating that it was the first time in recent memory that the government has done anything to help the ailing cigarette industry.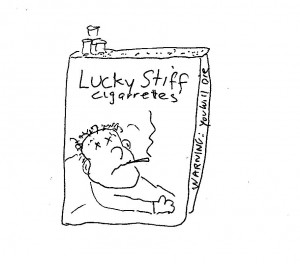 Turns out, the government will subsidize the artwork development, printing setups, and packaging modifications to adopt the Dead Guy specifications.  Each tobacco company will be able to choose its favored Dead guy art…among hundreds of funny-looking cartoons, caricatures of dead movie stars with superimposed cigarettes, and photos of various disfigured and toothless dead people pretending to be puffing away in the afterlife.
"I think it's a hoot," laughed one industry spokesman.  "I think this could be one of the best publicity enhancers we've seen in decades.  Did you see the Elvis artwork?  Man…I crack up every time I think about it."
The industry spokesman was questioned whether he thought that young people would be dissuaded from smoking because of the graphic images of dead smokers.
"Are you s#!**ing me?  Kids are gonna snap these packs up like they were Slurpees at the 7-11.  Probably have that Elvis pack on back order from Day one.  Listen, Elmer, kids know that cigarettes are bad for you.  Duhhhh.  They know that swilling a 12-pack of beer, having pre-marital unprotected sex, driving 50 in a 30 zone, wolfing down triple cheeseburgers with extra-greasy fries are bad for you, too.  Double-duhhhh.  But let me tell you one thing…they're gonna love these new cigarette packs (ha ha, ha).  What a riot!"
The spokesman was then asked how his company plans to change their production schedule.  "Called the plant this morning, and told them to crank it up 30 percent.  Just hope we can keep up."
Disclaimer:  all stories in Bizarreville are, of course, fictional.
Tags: cigarette legislation, cigarette pack ads, congress fumbles
This entry was posted on Saturday, June 25th, 2011 at 10:08 pm and is filed under Life in Bizarreville. You can follow any responses to this entry through the RSS 2.0 feed. You can leave a response, or trackback from your own site.