Repeal of Health Care finding mixed support
Conservatives and Tea Partiers who just took over leadership positions in the new Bizarreville Congress have vowed to make Health Care repeal their #1 priority.  They have stated that it is a program that no one wants:  businesses don't want it, citizens don't want it, even lawmakers don't really want it, as evidenced by the fact that they themselves would not want to be covered under the plan.  If no one really likes the friggin' thing, why would there be any reluctance to eighty-six it and start over?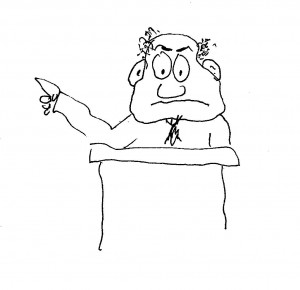 "Hold on a minute," Elmer Shtook, chairman of the Bizarreville Chamber of Commerce replied.  "Many of the businesses we represent do NOT want to see it repealed.  These companies are barely scraping by now, struggling to compete with 3rd world global competitors.  They are hanging by their finger nails to survive."  He went on to say that they are paying over 10 grand per employee to cover their damned health insurance.  These struggling companies see the new Health Care program as a way to bail out of this expensive ball & chain, and let the government pay the tab.
"Yes, but wouldn't you be concerned about your employees' attitudes when they learn that they are losing their Cadillac health care program, replaced with a Chrysler LeBaron government-run program?" asked one reporter.  "When they learn that they will be rationed a certain amount of health coverage, then be told to 'get rest and drink plenty of fluids', how will your people feel about that?"
"Hey, babe, that's not our problem any more," he replied.  "You gotta beef?  Call your congressman who sold you this hamburger pie.  No, we need to keep the Crap Care program as is, so that our businesses can compete with the 3rd worlders.  That means jobs…maybe lousy jobs…but jobs, nevertheless.  After all, jobs are jobs."
Another spokesman representing the iron/steel industry agreed.  He went on to say that the Government Health Care program is a good first step, but there is so much more that needs to happen in terms of employee benefit reduction.  "Next step:  We need the government to disallow 401-K programs and totally scrap the silly concept of pension programs.  The combination of no Health care cost plus no retirement pension cost would cut costs at Bizarreville Iron Head & Screws Corporation by 15 percent, maybe more.  Hey, if they would just legislate the eliminations of paid vacation, overtime premium, and Secretary's Day, I would give them all a great big kiss."
Tags: congress ineptness, health care, obamacare, repeal health care
This entry was posted on Thursday, January 6th, 2011 at 2:07 am and is filed under Congrass. You can follow any responses to this entry through the RSS 2.0 feed. You can leave a response, or trackback from your own site.