The repeal of tax cuts
The President and his crack staff of spendaholics had made campaign promises to not come up with any new taxes.  But they still had the insatiable appetite to spend, spend, and spend a little more.  Like a 400-pound chowhound sitting behind a plate of savory double bacon cheeseburgers, the temptation was simply irresistable.  Yes, they would engorge themselves with those meaty burgers…but how would they pay the tab?  What sucker could they get to pick up the check?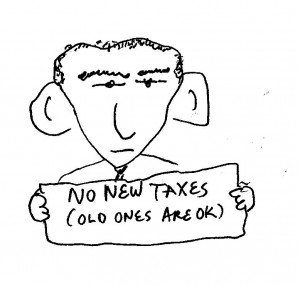 The President had an idea….roll back old tax cuts.  Naturally that wouldn't be a tax increase, per se.  It would just be the expiration of a tax decrease…in his mind, a totally acceptable loophole that could withstand the "depends on what the definition of 'is' is" kind of legal scrutiny.  Moreover, it would be an action that the President could undertake and have a complete illusion of a clear conscience.  After all, he had previously made speeches about the millions of job loss avoidances from his stimulus programs….this latest idea was certainly no more a truth-stretcher than that one.
So, they rolled back the Bush tax cuts, all of them:  the ones that benefited the filthy rich bastards, the ones that helped the semi-filthy middle class creeps, and the ones that gave a spark to the not-too-filthy lower incomers.  Oh, there was joy in the White House, and high-fives all around as the nasty tax cuts finally met their maker.
But then, Gilbert Shnoodle, senior adviser to the President, suggested they go ahead and roll back the Reagan tax cuts.  "Sure!" cried the staffers, "Why not?  Why not take a little more hide away from all those greedy SOB's?"  So, they immediately passed legislation to cancel those old Reagan tax cuts, driving top marginal rates to 70 percent.  By this time, the martinis were flowing freely, and any inhibitions about being a  radical dirtbag flew out the window. 
Another staffer suggested:  "Why stop there?  There have been many Presidents who have cut taxes over the years."  Before you knew it, they had rolled back the Nixon, Kennedy, Eisenhower, Truman, and Hoover tax cuts.  By the time it was over, the average tax rate was 62%, and the top marginal rate was 94%.  The staffers were so ecstatic, they went ahead and had a toga party.
There was some public bemoaning and bellyaching about this new radical tax policy.  But Administration officials insisted that the President completely abided by his promise of no new taxes…never said anything about unearthing some of the golden oldies.
All Stories in Bizarreville are fiction, even ones that seem sorta real.
Tags: bush tax cut rollbacks, obama, political satire, spendaholics, tax cut rollbacks, taxes
This entry was posted on Tuesday, July 13th, 2010 at 3:08 am and is filed under Street sweepings. You can follow any responses to this entry through the RSS 2.0 feed. You can leave a response, or trackback from your own site.