Stalking reporters now given ok to stalk
The Bizarreville government has just proclaimed that officially accredited journalists have carte blanche rights to stalk the victims of their stories.  This ruling came on the heels of the flap over reporter/author Joe McGinniss moving into a house next to Sarah Palin in order to gather material to write an upcoming book, Sarah's Alaskan Secrets.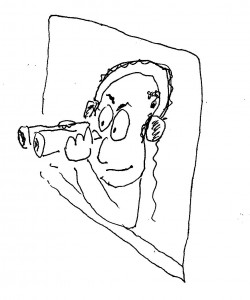 "Journalists need to be able to research their stories," said Phillip Smellburn, a government spokesman.  "And there's no better way that we've found than good old-fashioned stalking."  The spokesman pointed to new stalkological advances in binocular resolution, digital video compression, parabolic dish sound capturing, an discreet audio filtering that helps even relatively inexperienced stalkers stalk like crusty old pros.  The captured information with new equipment is so much juicier than the dribs and drabs uncovered with the old equipment, and this ultimately makes for a more tangy story that people will actually want to read.
And this was a key reason for the ruling.  Smellburn noted that fewer and fewer people are taking time to read news stories, investigative articles, or books for that matter.  People say that it's all too darn boring.  Newspaper subscripations, magazine subscriptions, and book sales have correspondingly plummeted.  By making stories full of scathing pieces, risque vignettes, and snippets of uncouth quotations that can be trimmed out of context, readers will flock to the stories, and help rebuild lost readership.  "And keeping people's reading skills high is good for Bizarreville."
Critics have been outraged and appalled by this ruling as "unconscionable in any kind of civilized society".  But Smellburn is quick to point out that "things aren't all that civilized anymore.  What's your point?"
Disclaimer:  all stories in Bizarreville are fiction, even the ones that seem so real.
Tags: mcginniss, palin, political satire, stalker, stalking reporter
This entry was posted on Sunday, June 6th, 2010 at 6:51 pm and is filed under Street sweepings. You can follow any responses to this entry through the RSS 2.0 feed. You can leave a response, or trackback from your own site.