Thugster card reward points program
Introducing the new Thugster Card, a card designed especially for that small portion of the population who normally has been systematically excluded from any/all perky Rewards programs…the common thug.  Now you, yes you, can utilize your own unique talents/skills to earn exciting prizes and trips to your favorite destinations.
Each time you go into that biker bar and beat up a few weenies, you earn points that will be tabulated by the bar-keep hiding beneath the bar.  Break a few chairs or mirrors:  bonus points.  Pop some smart alec with a pool cue-stick:  earn gold star points, as well as the admiration of your fellow Thugster reward friends.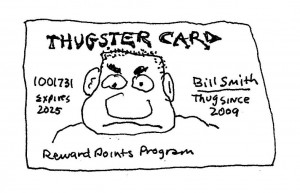 But there's more, much more.  Even simple thuggery like shoving an old lady into a mud puddle gets you points, if witnessed by another Thugster card member.  Sticking out your tongue at a little baby and scaring him half to death has been another popular point-grabber.  Almost any kind of cheating will help you quickly rack up bonus points as you strive for Platinum card status.  And when you get there, point awards all double.  Imagine that!
Just present your card to the Warden after your sentence, and he will provide you with a pamphlet of thrill-packed choices…ranging from paisley or pastel-colored jumpsuits to Chain gang adventures where you can pretend you're Cool Hand Luke and get the piss actually knocked out of you…!  How's that for a reality experience?  You may even get 30 days in the hole, if they still have holes where you'll be staying.
And when you're parolled, the Warden will hand your Thugster card back so that you can get back on the street and start amassing new points:  harrassing homeless peole, urinating in public, or shouting obscenities at a cop.  The fun never stops.
Sign up now.  And remember there's no annual fee.  Actually there was an annual fee, but our President stole it…gave him 300 points for that one…what a riot!  Act now.
Tags: inmates, jailhouse humor, reward card humor, satire, thugs
This entry was posted on Friday, April 9th, 2010 at 2:34 am and is filed under Crazies and creepskies. You can follow any responses to this entry through the RSS 2.0 feed. You can leave a response, or trackback from your own site.