Contract with Karl
Nancy Pelosi yesterday ordered all of her liberal colleagues to immediately pick up a copy of the new book, "Karl Marx Unleashed".  She said that it is high time we stop pissing around, nibbling away at important issues like auto industry nationalization, health care for the proletariate, and jail time for all capitalists.  "It is time for decisive, revolutionary-type action…that's why the public elected us, and that's what we are obliged to deliver…and deliver now before all the whackos on the Right have a chance to hose us down and extinguish the liberal flame within us."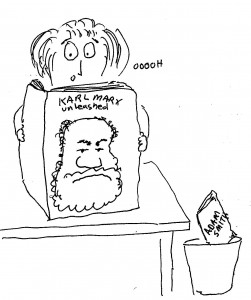 The new book, authored by Elmwood Skank, a professor of Political Science Mythology at Dweeb College, puts a brand new spin on old Karl's 19th Century ideas.  He points out that Marx was like an Industrial Age Nostradamus, predicting that the working class would get pissed at CEO salaries and bonuses, that capitalism would cause major boom/bust cycles that would devastate so many speculators, and that the New Orleans Saints would eventually win the Super Bowl.  Of course that last prediction requires the reader to take a few interpretive symbolic leaps to make the connection.
But his communist fundamentals, according to Skank, ring true today…including the concept of sharing the wealth, helping the lazy, replacing competition with kumbaya, and disincentivizing initiative that, oh so often, leads to greed.  He invokes the famous Rodney King quote, "why can't we just get along" to describe the societal problem with police brutalizing people just because they break a few laws here and there, threaten a few people, and terrorize the occasional neighborhood…or a dictator in Iran who just wants to be loved by the world communicty.  Karl Unleashed would get them all together and smoke a peace pipe…4 or 5 puffs and they would all get along just fine, thank you.
Nancy has become so inspired that she has gone to the library and picked up writings from Lenin, Engels, Trotsky, Mao, and Castro to really bone up on Marxist thought, and help her turn it into Action.  She has instructed her colleagues to develop a "Contract with Karl" set of 10 fresh new legislative bills to get this revolution into gear…high gear.  She has tried to not be too prescriptive, but hinted she would like to see things like food rationing, apartment-size equalization, and more public transportation to replace individual cars.
A Republican spokesman was asked to comment, but just shook his head and said "Wow".
Disclaimer:  all stories in Bizarreville are fiction, even the ones that sound like they could be real.
Tags: capitalism, communism, contract with karl, incentives, karl marx, liberals, marxism, marxists, pelosi, political satire, socialism, socialists
This entry was posted on Saturday, February 20th, 2010 at 11:48 pm and is filed under Congrass. You can follow any responses to this entry through the RSS 2.0 feed. You can leave a response, or trackback from your own site.