Evan Bayh Bye
Senator Evan Bayh from Indiana announced his plans to retire from the Senate, sending a shock wave across the Democratic side of the aisle.  At one time he was a formidable presidential candidate, and on a short list of contenders for Obama's VP slot.  But his biggest flaw was that he was the voice of reason and common sense, traits that simply could not be tolerated, nor reconciled with the Giga-Lib agenda.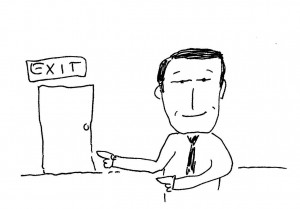 Bayh said that he was sick and tired of sucking up to the knuckleheads on the Left, whom he claims "seem to have left the Planet Earth to explore brave new worlds".  He indicated he is also fed up with the chicken s#!# in the Senate when just trying to do simple stuff.  "You need to schedule a caucus to cut a fart around here."
The crowning blow was when he decided to vote for the whacky Obamacare health bill, against his better judgement and intuition…then found himself vomitting over the stool later that evening.  He said it reminded him of the time he drank a quart of Ripple wine followed by a quart of Schlitz Malt Liquor while back in college. 
But he also said that the nonsense about Cap & Tax, the faux Jobs bill, and the secret plans to takeover the Breakfast Cereal industry…supposedly because Corn Flakes just aren't crunchy enough anymore… was more than Bayh could take.  "Does this kookiness ever have an end?" Bayh questioned, rhetorically.
Bayh also indicated that he had seen a doctor who had diagnosed him with Demagogue Fatigue Syndrome.  This is a little known affliction which can crop up when a politician has just heard enough BS to the point his ears start to turn brown.  The only cure is to get far away from Washington, DC.
Democratic party leadership had no official comment beyond saying that he was whole on his coffee dues, and always paid his Super Bowl office pool bets on time.  But privately, Dem insiders said that they look forward to putting forth a first-class candidate, Oliver Spunkle.  Spunkle is a professor who teaches Marxism and Crocheting at Indiana University, is a staunch vegetarian, has never held a real job, and still wets the bed.  "We think Indiana voters will vote for him because of his affiliation with IU and because he had played basketball at his small-town Indiana high school," the insider commented.
Opponents point out that Spunkle played on a team that went 0-20 his senior year, only had 6 players on the whole team, and Spunkle rode the bench.  But of course that was before he became a vegetarian.
Disclaimer:  all stories in Bizarreville are fiction, even the ones that seem real.
Tags: bayh resignation, evan bayh, indiana, liberal agenda, obamacare, political satire
This entry was posted on Wednesday, February 17th, 2010 at 10:35 pm and is filed under Congrass. You can follow any responses to this entry through the RSS 2.0 feed. You can leave a response, or trackback from your own site.