Ben Nelson boo-hoo's to boos back home
Ben Nelson, the infamous Democratic senator from Nebraska, has been getting booed when he goes into any restaurant in his home state.  Last weekend, he was sneered at and pummeled with cold pizza by a bunch of 8-year olds when he tried to sneak into a Chuck E. Cheese for a quick dinner and game of Skee-Ball.  The day before, he was denied purchase of a large popcorn just before watching the movie Avatar from a kid behind the counter who refused to touch his soiled money.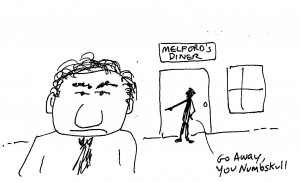 Nelson knows he has got some bridges to unburn since his illogical decision to accept bribery to vote for the Obamacare bill.  Folks back home don't cotton to that kind of squirrelliness.  So yesterday he announced he would join the Republican filibuster of Craig Becker, nominated by the Communists for a seat on the National Labor Relations Board.  He knows that, with Nebraska's tradition of being a Right to Work state, the public would crucify him even further if he didn't start giving some modicum of impression that he was representing his constituents.
Old Ben knows that Becker favors the Employee Forced Choice Act (EFCA).  This is a bill being debated in Congress, which would totally remove secret balloting for unionization, and open the doors for union thugs, creeps, and dirtbags to make workers offers 'they can't refuse' to join unions.  The proposed law would also prescribe a set of anti-business rules, whackings, and penalties sure to dry up job growth…what little there is.
Ben has heard that Becker has other nutty ideas.  He has pushed for the Sleepers Rights bill, which would allow workers to konk out on the job without fear of repercussion.  "Hey, we all get tired, especially after tying one on the night before," Becker said, speaking at the Left Wing Jumblebrain Association's national convention, to wild cheers from the crowd.  "What's wrong with a little shut-eye on the job?  You've done it, I've done it, we've all done it.  I konked out for an hour and a half on the crapper one time in 2002 after a tough night of margaritas."  If passed, the new law would allow all workers 25 minutes in the morning and 45 minutes after lunch to doze off at full pay, plus another 30 minutes of optional sleep-time at half-pay.  Becker has said that most workers wouldn't take all that time every day, but if they needed it, they would have it…without fear of losing their jobs.  When asked a follow-up question, an Aide had to nudge Becker to wake up.
Nelson stands by his rejection of Becker, but has said he might reconsider his vote if Harry Reid comes forward with some new sweetheart bribe for him and his family.  He has suggested that the Caribbean is nice this time of year.  Insiders say that Reid is booking him on a trip to Haiti.
Disclaimer:  all stories in Bizarreville are fiction, even the ones that seem pretty darn real.
Tags: ben nelson, craig becker, NLRB, political satire, sleeping on the job, unions
This entry was posted on Wednesday, February 10th, 2010 at 1:51 pm and is filed under Commies, Crazies and creepskies. You can follow any responses to this entry through the RSS 2.0 feed. You can leave a response, or trackback from your own site.