AARP kicks out Specter
AARP announced yesterday that they have unilaterally cancelled the membership of Arlen Specter, the fumbling senator from Pennsylvania.  The action comes as a last-straw from Specter's latest action which they described as "profound numbskullness".  Specter was a guest during a recent radio talk show with Congressperson Michelle Bachmann where, at one point, he scolded and whined, "I'm going to treat you like a lady.  Now ACT like one!"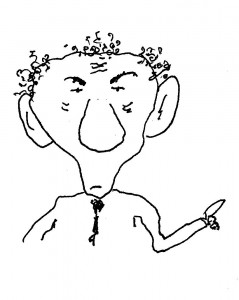 AARP said they are proud to represent most all flavors of old people…geezers, cobweb collectors, geriatrics, grouch bags, mean old farts, and creaky basket cases.  But Specter went above and beyond AARP standards for even mean old farts, and violated the idiot clause in the association's bylaws.
This latest Specter-flub was just the latest in a series of bizarre antics, starting when he drifted into total confusion about what party he belongs in and what values he believes in.  He then essentially flipped the bird at the party that had supported him without even a courtesy phone call.  Then there was his infamous Town Hall meeting where he chided his own constituents who had the audacity to want their voices heard.  Even the Democrats are keeping their distance from the guy.  "He's a vote," commented a party spokesperson.  "That's about it in terms of our interest."
But a congressional medical authority weighed in on the situation, "It's not that unusual.  This guy has been serving in a totally dysfunctional Congress for decades.  And with his lack of core values, he has had to swing back and forth, go around and around, and incur enormous stress just trying to decide what to do every day.  Clearly, that has caused irreversible brain softening, which now appears to have shut down his ability to reason.  Rather than criticize, we should all feel sorry for him…and find him a home somewhere."
AARP has said that it is sympathetic to his brain softening condition, but it must protect its reputation, and the reputation of its huge membership.  "If the public begins to think we're all a bunch of Specteroids, our organization will cease to be taken seriously and lose the political punch we've garnered over decades of work."  The association is assessing the rest of its 80-plus agers to determine if there are other Specteroids out there that will need to be purged or rehabilitated.
AARP has said they will return a prorated portion of his dues.  And as a further act of compassion, they will send Specter a packet of brochures where he can get some psychological help at a 20% discount.
Disclaimer:  all stories in Bizarreville are fiction, even the ones that sound like they could be real.
Tags: congress, humor, political satire, specter
This entry was posted on Saturday, January 23rd, 2010 at 3:06 pm and is filed under Congrass. You can follow any responses to this entry through the RSS 2.0 feed. You can leave a response, or trackback from your own site.