Democrats having melt-down after Massachusetts election
Security agents have the Capitol locked down as they put together the pieces to better understand the disastrous incident early this morning.  All are shocked and puzzled in disbelief as they look for mops to clean up the mess.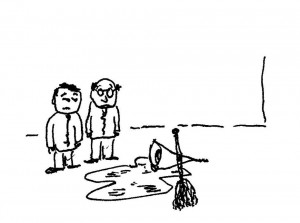 It all started when Nancy Pelosi, the spaced-out Speaker of the House of Ill Repute, was given word of Scott Brown's stunning victory in Massachusetts.  Sensing the world as she knew it coming to an end, she started flipping out, foaming at the mouth, and acting like a total imbecile.  Normally that would not have been considered too unusual for her.  But then she started to faint, with her eyes rolling back into her head.  A top aide instinctively, without thought, reached for a bucket of water and doused her from head to toe.
Pelosi started fizzing and fizzling, becoming enveloped in a turquoise fog, then started literally melting away right on the spot.  Within one minute, she totally dissolved into a puddle of green goo on the floor.  All that was left was her ever-present broom and pointy black hat drenched in 2 quarts of green slop.  Bystanders just stood by with jaws dropped.  Her final gurgled comments were, "Et tu, my little pretty?"
Democratic congresspeople have been desperately trying to figure out how to reconstitute her.  Some are reading and re-reading all the novels of L. Frank Baum to see if there are any hidden deliquifying instructions embedded somewhere.  But others are just standing around like a box of rocks trying to figure out what to do next…directionless.
Meanwhile, the EPA called in its Hazardous Material Unit to quarantine the area with red danger tape and don moon suits.  The EPA inspector indicated that it was likely Congress would be issued a Notice of Violation and sizeable fines for an unpermitted hazardous spill…an outcome of the Administration's orders to toughen enforcement.
Disclaimer:  all stories in Bizarreville are fiction, even the ones that seem like they could be real.
Tags: congress, massachusetts special election, pelosi, political humor, satire
This entry was posted on Thursday, January 21st, 2010 at 2:09 pm and is filed under Congrass. You can follow any responses to this entry through the RSS 2.0 feed. You can leave a response, or trackback from your own site.