Senate trans-voters get special perqs
Taking a page out of the Al Qaeda playbook, Democratic leaders were able to successfully convince several senators to suicide bomb their careers by voting Yes on the Health Care bill.  These were senators whose home state constituents were overwhelmingly opposed to the bill, and who initially indicated that they would vote against it.  But, by using proven Al Qaeda-type brainwashing techniques learned during interrogations at Gitmo, the Dem leadership persuaded them convert to their way of thinking, and got them to agree to be thrown under the bus, careerwise.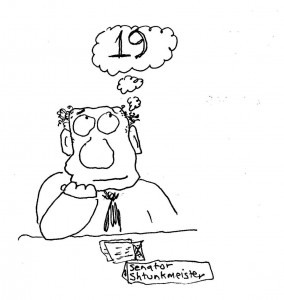 But it did not come without cost.  Each trans-voter was promised 19 virgins who will be at their beck and call in their senate afterlife.  At the senator's choice, they can be male, female, or a mix of both.  The virgins will be commissioned to satisfy any of the senators' wild fantasies, some of which are expected to be quite bizarre.   Requisions for pudding-like food substances, pogo sticks, cases of lard, and air horns are among the items that have surfaced thus far in the negotiating process.
Some other senators have raised objections to the virgin handouts scheme.  They have cited that they have been dependable/reliable voters, toeing the party line, but are not being given these kind of perqs.  In fact, they say they get very little supplemental recognition, complaining that leaders are taking them for granted, and their votes for granted, just because they have no independent thought.  Dem leaders have responded that there is no truth to the charge, and assures them that there will be 'severe repercussions' if they ever get out of line.  "I think that proves we don't take them for granted."
Leaders are, however, considering throwing a bone to the steady-eddie senators.  "Maybe we'll give them each a virgin or two to shut 'em up."
Meanwhile, the soon-to-be-ex-senators are starting to announce resignation plans before the 2010 election process commences.  Their new lame duck status will allow them to totally disengage from senate activities, be able to spend time designing and building their new virgin playrooms, and most importantly, load up on ED meds.
Disclaimer:  all stories in Bizarreville are fiction, even the ones that seem like they could be real.
Tags: health care, obamacare, political humor, satire, senate vote switchers, shady deals
This entry was posted on Saturday, January 9th, 2010 at 2:42 pm and is filed under Congrass, Health Care pffffft. You can follow any responses to this entry through the RSS 2.0 feed. You can leave a response, or trackback from your own site.