Archive for September, 2014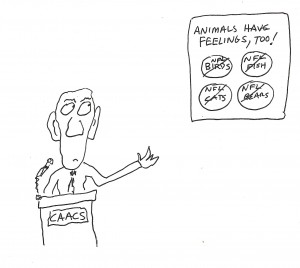 The hubbub about the NFL Washington Redskins name and mascot has recently gotten the attention of the Citizens Against Animal Cruelty Society (CAACS).  That organization has pointed out that half the teams in the NFL have animal mascot names, all of which are offensive to animal lovers throughout the land.  Bird watchers, in particular, have been vocal about the NFL's disregard for their tender feelings, insisting that name changes be immediately implemented, or face nationwide protests.  Lovers of falcons, ravens, cardinals, seahawks, and eagles have all jumped on the band wagon, uniting with the cat family protestors and fish lovers, demanding fast action from the NFL.
The CAACS gas gone so far as to suggest alternate, more inert names that not only eliminate the unacceptable stigma of animal association, but are more representative of the unique cultures of the individual cities.  They have proposed a list of alternate team names, including the Chicago Deep Dishes, the Detroit Spare Tires, the Miami Suntan Lotions, the Atlanta Traffic Snarl, the Cincinnati Soap-on-Ropers, the Indianapolis Pits, the Carolina Moonshiners, the Denver Stoners, the Seattle Umbrellas, and the Phoenix Parch.
The initial reaction of the affected teams has been somewhat negative so far.  They insist that there have been no complaints from the affected animals, and until they hear complaints from the creatures themselves, they have no plans to make any changes.  The CAACS has countered that they have found a person who understands and can translate dolphin language, and will use him as a star witness in the lawsuit, which will inevitably arise in the near future.  The society is also on the lookout for bird translators.
The Eagles organization responded that their team name was more an analogy to U.S. currency, as opposed to the bird itself…saying that the name was derived from the fact that their is a US mint in the city of Philadelphia.  The CAACS responded, "Fine, then call your team the Philadelphia Two-bits."
The NFL organization itself has declined comment, adopting a wait and see approach to see how the issue pans out before jumping into the fray.  One reporter asked if they should adopt a chicken as the league mascot, but the spokesman said that would just get them in deeper hot water with the CAACS Bird Division.
Disclaimer:  all stories in Bizarreville are fiction and not related to reality, at least not yet.