Archive for December, 2013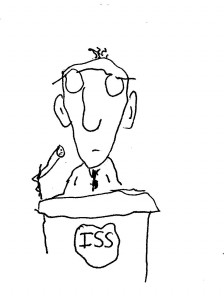 The Institute of Study Studies (ISS) just published a new study this week revealing that, on an overall basis, all study conclusions…no matter if seemingly profound, no matter if done by the bluest of blue chip panels…cannot be considered valid.  They say that most studies are so full of bogus science, skewed and skewered data, illogical quasi-analysis, and statistical insignificance that no one can validate the true truth from ordinary bilge water.  Most conclusions have no real basis in fact.  More often than not they are manipulated and slanted to reflect what the payer of the study wanted to hear, with high hopes of getting re-funded to continue the work.
A spokesman for the ISS said that the studies stating that something is bad for you have a 33% chance of being correct, a 33% chance of having no impact one way or the other, and a 33% chance of it actually being good for you.  He pointed to the wave of lawsuits challenging nearly every prescription medicine ever sold, the ongoing debate about the health effects of eating eggs, the global warming debate, and the latest controversial study concluding that supplementing your dinner meal with a small side of dog chow helps digestion…as evidence of the range of uncertainty and confusion in the world of studies.
The ISS study has angered various think tank members, and egghead forums across the nation.  One outspoken multi-PhD member of the High IQ Bowling Society commented that if the ISS conclusion is true, then their own study of studies must also be considered invalid…so there.  The ISS responded that this guy needs to seriously get a life.
Others who spend their whole lives just thinking about stuff were similarly outraged when the ISS proposed that all study work be stopped, and that study wheel-spinners go find real jobs.  "The macroeconomic tightrope of such a broad reaching runway is arbitrary, mal-feasible, and potentially could channel benign resurgence," one egghead complained.
"Case in point," the ISS spokesman replied.
Disclaimer:  all stories in Bizarreville are fiction, at least for now.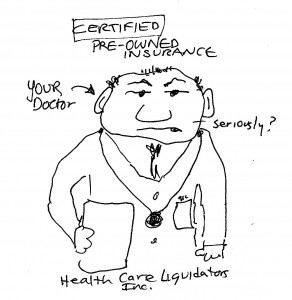 Attention Obamacare Shoppers:
You have been frustrated, waiting and waiting to be able to get service at the crippled Obamacare website, right?  Then, when it looks like you finally get a connection, you get dumped into a cyber-waiting room for endless hours.  Meanwhile, your previous insurance company has cancelled you, leaving you buck naked from a health coverage standpoint.  A crying shame.
Well, now the wait is over.  The administration has contracted with Health Care Liquidators Inc. to offer citizens whose health care programs have been obliterated a special deal:  pre-owned health care coverage at discount prices.  This new program has been certified by the Obamacare Death Panel Oversight Committee, and promises that the certified pre-owned coverage will be just as good as new coverage.  The committee guarantees policy owners can keep their old doctors…provided those doctors are registered with the Health Care Liquidators network and are willing to accept the discounted fee structure.
These policies have just come from owners, like yourselves, who bailed when Obamacare looked to be the new fad.  Some pre-owned policies have slight cosmetic damage.  Whereas they might not look attractive to purists, or have the fabled new policy smell, they will still function adequately in most situations.  Administration officials have said, "Hey…it's better than nothing."
Be one of the first to enroll in the Certified Pre-owned Health Care policy program, and you will be automatically enrolled in a drawing for a free 4-slice toaster.  The toaster slots are wide enough to jam bagels, texas toast, even hot dog buns.
Disclaimer:  all stories in Bizarreville are fiction, at least so far
This is the perfect time of year to find something out of the ordinary for stocking stuffing.  Choose the quintessential gift of satire:  Bizarreville Campfire Stories.  You can easily click on the book cover on the right to link to Amazon, or the B&N image to link to those folks.  Face it, the same old traditional stocking stuffers are not going to give you the Wow Factor, like the craziness of Bizarreville.  Do it today.