Archive for May, 2013
The Bizarreville IRS was awarded the prestigious Leadership Bozo of the Year distinction by the International Council of Bozos yesterday in an impromptu ceremony in the ICOB Weed Garden.  The award recognizes organizations that have gone above and beyond the call of duty in demonstrating leadership ineptness, stumblebum levels of in-agility, and lamebrain capacity in helping drag their respective organizations into the abyss of patheticness.   The new acting head of the IRS, Milford Feldwich, proudly accepted the award while thanking his recently terminated predecessor for his considerable accomplishments in, what he called, leadership emptiness.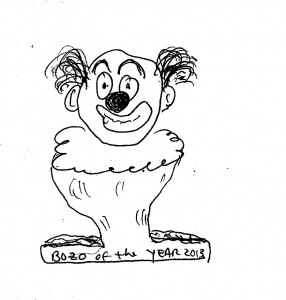 The award is normally bestowed upon fumble-up private enterprise corporations such as Solyndra, Circuit City, The Chicago Cubs, Dog & Suds, Lenox, or Schlitz Brewing…feeling that government organizations have such an unfair natural advantage in the rating criteria.  In this case, however, the Selection Committee felt that the IRS had performed heads and shoulders beyond any regular bloated, inefficient, dopey bureaucracy in bozoness…and each day seemed to peel back another layer, as if witnessing the crack design team on the original Chrysler LeBaron project.
The estate of Ringmaster Ned reiterated its dissociation from the Bozo of the Year award and the ICOB.  In its statement, family members warned that if they get audited by the IRS because of this award, they would be filing a lawsuit in circuit court so fast that those big floppy feet would look like a candy apple red blur.
Feldwich was apologetic for the organization's targeting of certain political groups and individuals that "coincidently" happened to be on the President's Enemy list.  He said that those folks would continue to be targeted in the future, but the IRS would also target some names on the President's Friends list to make it seem more fair.  He said that his organization would be cleaning house, but admitted that the people who would be filling the vacated posts were probably just as pathetic as their predecessors, if not more so.  When asked about measures to improve accountability, Feldwich answered, "Huh…what's that?"  He then said, "Just kidding.  We're going to make sure all our agents can count.  It's in their job description…I think.  Tell you what, let me check on that."
ICOB noted that there has never been a repeat winner in the history of their award.  One committeeman remarked that the agency's new head, however, has all the makings of a precedent-breaker.  He reminded that there is also a Leadership Bozo of the Decade competition, saying that the IRS now seems to be the team to beat.
Disclaimer:  all stories in Bizarreville are fiction.  At least, so they say.