Archive for January 14th, 2012
Romney, the newly crowned king of Pious Baloney, has continued to merchandise this new brand of fresh vocal lunchmeat.  In various recent campaign appearances, he has shaved off several slices, and delivered it on a soggy hoagy bun to waiting media reporters…who promptly snarfed it down like it was guacamole at a Super Bowl party.  Here are some exerpts: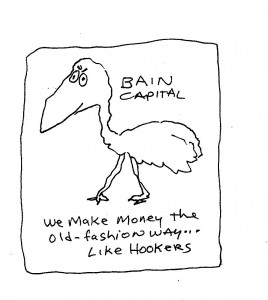 -Romney compared running the Bain Vulture Capital firm was no different than the President baling out the auto industry.  Chainsaw Mitt vaporized dozens of companies, shuttered scores of factories, and fired thousands of people so that his venture investors did not go broke and lose their jobs.  He admitted that there had to be some pain, while he was shutting down companies in order to save them, likening it to the President letting GM go bankrupt and eliminating all value in shareholders' 401K programs, so it could be taken over by the federal government and get the company properly refocused on electric car production.  He also referenced that he was no different than the Richard Gere guy in the Pretty Woman movie, and that people kept coming out to watch the movie regardless.  Romney did say that he would not have allowed the Hostess Baking Company to go bankrupt, but that was mostly because he likes Twinkies.
-He insisted that the reason he enacted RomneyCare and other liberal policies while governor was because that is what the state's citizens wanted.  He said that he truly had to go to the restroom almost every day and empty his stomach, as he reluctantly signed the whacko bills into law.  It was tough, and required buying caseloads of Maalox and various suppositories…but sometimes, he said, you have to be stupid in order to be smart.  He got a rousing round of applause from backers on that last line.
-He indicated that he stood ready to eliminate the bitter divisiveness in politics…one day after pounding Gingrich with an enormous truth-barren ad campaign to destroy his hopes.  It was reported that 96% of his PAC's funding was earmarked to draw and quarter Gingrich.  But Romney claimed that he did not know anything about the butcher-job, because he was too busy reading the F section of the dictionary.  He then spouted several 5 syllable F words to prove his point.
-Romney claimed that his suit is not empty, not even close to being empty.  When asked why he thought he put audience listeners to sleep with his dispassionate droning on almost every subject, he responded that it was probably because Gingrich and other opponents caused them to lose sleep with their lines of utter nonsense and unworkable policies of change.  He promised to enact tax breaks for the purchase of 5-hour energy juice as part of his Economic plan, and distribute the jolt drinks free to the homeless and jobless.
-When asked about his history of losing elections, he responded that deep down inside he really wanted to lose those elections.  He said he enjoyed the campaigns, but really did not look forward to the prospect of actually doing such a boring job and working with such legendary numbskulls.  He chuckled and said he was only kidding, and then winked.
-Romney was asked about the secrets to his success in the debates.  He responded that partly it was because he could deliver political rhetoric as fast as a professional speed-talker who just slammed down a Venti at Starbucks.  He claimed that he has golden cliches in his hip pocket that he hasn't even used yet, saving them for the general election campaign.  He reminded all that his father was the president of American Motors, and had to sell freaking Ramblers to the public…so he comes from a genetic line of proven silver tongue specialists.
-He was finally asked how come he was, in his words, so successful in a wide variety of leadership positions, in such totally different lines of work that seemingly would each require high levels of expertise.  He responded that, confidentially, he never developed a lick of expertise in any of those business/government entities, but was able to hire good people to cover for him.  He said that's what leadership is all about…hiring good people, setting lofty goals, developing execution plans, that sort of thing.  One snide reporter added, "then conveniently baling out at the right moment so you couldn't be held accountable for pathetic results."  Romney smiled at the comment, then turned and whispered something to a top aide.
Disclaimer:  All stories in Bizarreville are fiction, even ones that have a ring of truth.